Many small businesses and start-ups hit that same point of realisation, when they start to see just how important adequate marketing is for the future of their businesses. It can come as quite the shock, to realise just how dependent sales can be on marketing.
After that point of realisation, the next step is to delve into the unfamiliar territory of marketing. You might start with billboards or flyers, targeting those customers that are close to your business. Then comes to more extensive marketing, strategies that are going to get you known, get customers through the door, and put your brand at the forefront of their mind.
This is where SMS marketing comes into the equation – your comprehensive tool for making a brand visible.
There is little doubt that SMS marketing is effective, with at least 50% of the businesses in the UK alone using it. But, when you're new to SMS marketing, the whole thing can be a little daunting.
If you're considering launching an text message marketing campaign for the first time, or you want to improve your current campaign, here are 7 of the most important factors that all small businesses need to know about:
Factor One: Be as Unique as Your Business Is
The first factor to remember is that your business is unique. Whether your business is a local salon, a restaurant or takeaway, or you run a gym – there is something unique about it. You need to make sure that you get this unique message across in every text message that you send and build a conversation with your customers.
If you're not capitalising on your unique features, then you're giving your customers very little reason to stay engaged. An SMS marketing campaign needs to captivate, intrigue, and reel your customers in. With every message you send, your subscriber list needs to know who's behind it.
Factor Two: Think About the Platform That You're Using
One common mistake with SMS marketing campaigns is that a business forgets just what kind of audience they are targeting. First and foremost, you are targeting a group of people that use their mobiles. If they then want to take a closer look at your brand, what you're offering, and what else is available, they're unlikely to change devices to do it.
Making sure that you have a mobile-optimised website for easy viewing is essential if you want to captivate the attention of your customers, and then actually be able to keep it. This can include optimised blogs, web pages, videos, and pictures – just make sure your brand is mobile-user friendly!
Factor Three: Messages Need to Be Valuable and Direct
There is very little point in spending money on a SMS marketing campaign if you're not offering anything of value. Text messages need to be direct with value evident in every message you send.
Useful information, promotions, limited-time offers, special information exclusive to your customer list, can all help to add value to your marketing campaign. A key thing to remember is to get to the point with as much value added as possible.
Factor Four: Perfect Timing Is Essential
Timing is everything when it comes to a successful SMS marketing campaign. Even just an hour off the prime time could mean that your marketing campaign success is sliced in half. One of the best ways to stress the importance of timing is through the example for a restaurant:
You've decided to launch a limited time promotion on one of your meals. Customers can save 50% off a meal for two days only.
If you launch this late in the evening, you miss out on customers looking for dinner options. If it's launched in the morning, by dinner-time, its been forgotten. Launch it at lunchtime, everyone is already full.
The golden time to launch is just when people are trying to decide what they want to eat. If you send out your promotion at this time, you're very likely to see a big turnover and an impressive return on investment.
Factor Five: Your SMS Marketing List Needs Growing as Well
It's very easy to forget that your SMS marketing list needs to grow. Spending too much time focusing on the customers you do have, and not enough on new customers, will likely result in your campaign list starting to dwindle.
Always have a secondary focus on growth as well as engagement. Make it easy for customers to refer friends, and give information or promotions that have a great 'word of mouth' incentive.
Factor Six: A Call to Action Leads to a Successful Campaign
At the end of the day, a text marketing campaign is all about results, engagement, and ongoing sales. You need to be giving your customers something to act upon, the ever important 'call to action'.
An informative text is great, but you need to give a viable way for your customers to do more. It could be to give you a call, perhaps to take advantage of this offer now, or to check out more. Whatever you choose, give your customers a reason to act and stay engaged for longer.
Factor Seven: You Can't Break the Golden Rules
Perhaps the most important factor of all – you can't break the golden rules of SMS marketing. There are set limits and regulations surrounding what you can and can't do with SMS marketing, and those that aren't set, but that you should follow anyway.
Importantly, you need to make sure that you're adhering to the Telephone Consumer Protection Act (TCPA) and the regulations set out. You need full permission to send texts and customers should always be able to opt-out. A difficult opt-out process is always going to break down brand trust and loyalty.
As a bonus point: always remember that quality MUST come before quantity in SMS marketing!
Once you get to grips with it, it can truly help to give your business the edge. There are so many sides to SMS marketing, that once you get to grips with the basics, you can open the door to a wealth of possibilities for your small business!

Reach Out To Us
Contact us and we'll be happy to answer any questions you have. Check out our free demo and take the platform for a test drive!
December 20, 2018
When subscribing to text messaging services, you have probably heard about SMS and MMS. This article will educate you by...
Read More
The best way to experience the platform is to take it for a test drive.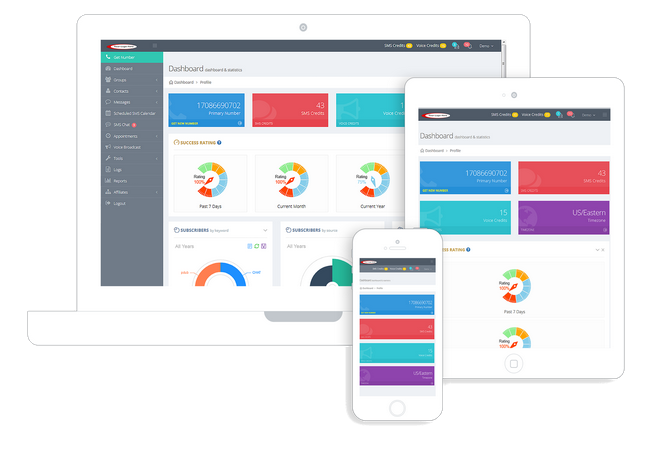 USER PANEL Username & Password: demo
* Contact us for admin panel credentials