80% of smartphone users check their phone before brushing their teeth in the morning. Are you utilizing this statistic in your internal business strategies?
IDC research released a statement saying that the 80% of smartphone users who check their phone in the morning do it within 15 minutes of waking up.
This survey also found that adults are spending at least 87 minutes a day communicating and using social media Monday – Thursday. This number doubles to 160 on Friday, Saturday, and Sunday.
With a remote team, communicating with them can be very difficult. You have timezone constraints and you may not feel the personal connection to each co-worker like you would in an on-campus environment.
Our answer to your troubles: SMS software.
The power of technology, especially text messaging, is huge.
Here are 10 ways bulk text messaging can help your remote team stay on task.
Better For Remote Staff
A phone call may fail, but a text will still go through. Last minute changes happen. It is inevitable. But that doesn't mean you should worry!
Referencing a text message is quick and can be one of the most efficient ways to communicate in a time of crisis.
Not only is it reliable, but if you have remote staff working all around the globe, scheduling a phone call or conference for everyone to meet and hear the same information the same way at once can be very difficult. Sending a quick text with the necessary information will optimize company culture due to less miscommunication.
Less Gossip
Don't let your team members be out of the loop and resort to gossiping in order to stay up to date. Sending a text message puts all of the gossip to rest and allows everyone to remain on the same page.
People gossip when they do not know all of the information. Give your staff all of the information right away. Through bulk text messaging, you can guarantee that everyone received the same information as well.
Miscommunication
Remember the game telephone? Everyone stands in a line and the first person whispers a message into the second person's ear. The second person then whispers into the third person's ear, and this continues until the last person has heard it.
By the end of the game, the person at the end most likely has heard a different message. This isn't because someone intentionally changed it in the middle of the message, but it is because it is so easy to misunderstand something.
Save your team the heartache and use bulk text messaging to increase effective communication.
Track Errors
One of the great things text provides is a written form of the communication. If the item was delivered to the wrong address or one of the employees didn't reach the deadline you thought was given, check the text. You can then confirm if the error was in the communication or not.
Teaching Tool
When errors are found, sending a text to the group explaining the situation as a teaching tool for everyone is a great way to make light of the situation. This isn't meant to help place blame. The name should be left out regardless.
2 Way Communication
SMS software is not meant to go only one direction. As a manager, you can text a large group of employees and allow them to reply to that message. They can be replying directly to you, or the group as a whole allowing an open and fast communication line.
Immediate Responses
This is great if you have a last minute request or question and just want whoever is ready and available to answer. You can message 100 employees in a matter of seconds and that gives you 100 different potential persons to answer the question or tackle the task.
Imagine how much time you can save by implementing this idea!
Better For Co-worker Communication
In an industry when things change constantly and are always last minute, it is often difficult for even a manager to stop and text his employees. With SMS software, you can actually have an employee text the group all the information.
There was likely someone in the meeting or someone in HR who would be willing and able to explain the details to your team if you give them the chance. Now this will not work for everything, but in some cases, it can be a time saver.
Team Bonding
There are definitely some topics that should not be talked about with co-workers outside of the team. If this is the case, have one of your team members reach out and send the message. This software is meant to help everyone, including the manager.
This software is also great for external communication. If you are interested in learning more about these possibilities, click here.
Saves Time and Money
No matter what industry you are in, time is money. The more time you have to spend gathering your department together, the less time they have to work. Halting production for a few minutes could lose thousands for some companies.
Using SMS software for weekly updates is a great way to save the company the added time and money. Announcing a new integration technique or social media initiative is done best in a short manner. Send a concise message explaining the change and if there is a page on the corporate website, send them there for further information.
Bulk Text Messaging Can Be A Success
The key to success in a company is not only understanding how to market your potential customers or clients, but it is also understanding what it means to communicate effectively internally.
Company culture is difficult when you have so many employees working remote, but that does not mean it is impossible.
Here are some companies that have implemented bulk text messaging into their corporations. The benefits and challenges of the integration are discussed briefly in this article. Pull from other companies mistakes and successes in order to create the best work environment for your employees.
Get off to a great start by contacting us for more information on how to integrate bulk text messaging into your company.
December 20, 2018
When subscribing to text messaging services, you have probably heard about SMS and MMS. This article will educate you by...
Read More
The best way to experience the platform is to take it for a test drive.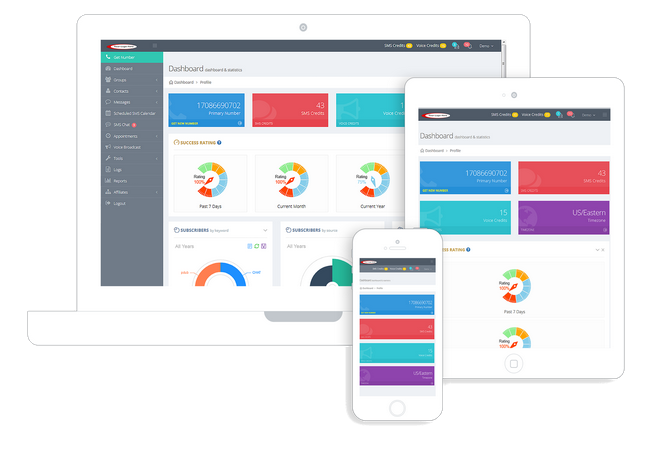 USER PANEL Username & Password: demo
* Contact us for admin panel credentials