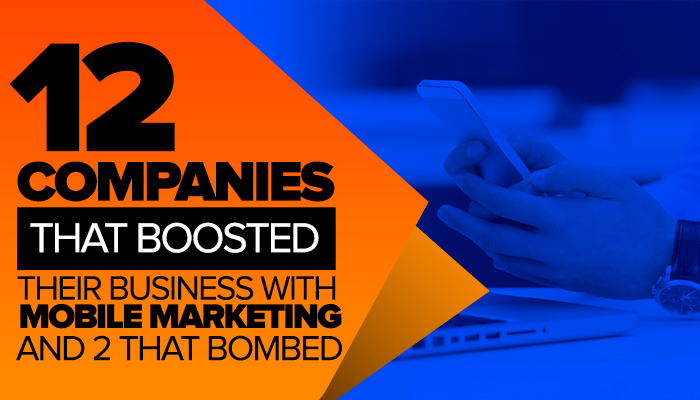 Try searching for "mobile marketing" online and you'll likely end up with results focusing on Facebook Messenger chatbots or Instagram interactions, viral YouTube videos or punchy Snapchat pics, bespoke emoji keyboards and custom GIFs scattered across social media. But amidst all of this marketing hullaballoo, there's a method most experts assiduously ignore: the SMS Marketing campaign.
Who knows why good old SMS gets the cold shoulder? I have my suspicions, of course. Reporters and outreach types absolutely love mobile marketing campaigns that are fresh, flashy, innovative, and experimental—and SMS is none of those things. Familiar, slightly stodgy, and well established, SMS won't get tastemakers particularly excited.
But that doesn't mean it doesn't work.
Although marketing is simple at its heart, that doesn't make it easy to define. Merriam-Webster calls it "an aggregate of functions involved in moving goods from producer to consumer." Hardly elegant verbiage, but essentially correct: Marketing is about how companies and customers interact while getting goods from one to the other—and SMS can play a vital role in the process.
This report will guide you through the experiences that 14 companies had with SMS, their marketing objectives, and the ways in which text messaging help them reach them. At least it helped most of them. Two firms made major missteps, and the results were anything but a slap on the wrist.
So without further ado, here are the companies that used SMS for its effectiveness in bolstering traditional marketing
The beauty company Aveeno is a cul-de-sac in the vast neighborhood of conglomerate Johnson & Johnson. Aveeno made a name for itself by doing things differently. Rather than use chemicals in its products, it puts in oats, which have naturally soothing properties. Johnson & Johnson decided to double down on this distinctive, calling these ingredients "active naturals."
This distinctive culture influenced how Aveeno marketed its products, too. During a print campaign to promote its Nourish+ line of hair-care products, the company gave it a mobile marketing spin by including a text box with the code 467467 and urged consumers to text the keyword "HAIRS" to it in order to receive a free sample.
The end result? Aveeno guided consumers toward a new product, encouraged greater interaction with its traditional advertising, and built an SMS database.
Back in the day, cinephiles had two ways to watch their favorite films at home—their local rental stores or the big rental chain Blockbuster Video. But when Blockbuster began to implode in the late 2000s, a virtual galaxy of options spun out from it, one of the most interesting being Redbox.
Situated at various high-traffic shopping areas such as grocery stores and fast-food restaurants, Redbox kiosks offered movie and game rentals starting at around a dollar. Low cost and great convenience caused the company's contact lists to swell. It put then to good use, employing them (specifically the 2.7 million people who'd opted in to receive SMS messages) in a timed mobile marketing campaign.
Dubbed "10 Days of Deals," the promotion offered customers a discount ranging anywhere from 10 cents to $1.50 off of a rental after they texted "DEALS" to 727272. Not only did Redbox see a robust redemption rate, it also added 200,000 numbers to its SMS rolls.
"We are finding that people who are on mobile are incredibly involved and engaged consumers," stated Redbox's Vice President of Marketing Amy Gibby. "[They] are very important to our business today, and I would assume increasingly so in the future."
Ford Motor Company also decided that SMS should have a slot in the promotional mix. A relatively recent promotion saw FoMoCo sliding SMS into its marketing efforts, combining print ads with a call for readers interested in its Taurus and Escape models to text "FORD" to 63611. Those who did so received requests for their names and zip codes so that they could be contacted by a local dealer. So far, so standard. But this campaign contained a hook designed to catch reluctant participants. If someone only submitted part of the requested information, Ford sent a handful of polite reminders over a 30-day period. It seemed to work. The campaign ended up with a greater than 15 percent conversation rate.
Tulsa-based motorcycle dealership Route 66 Harley-Davidson also managed to snag its fair share of customers. Every business wants to grow revenues during the holiday season, and Route 66 decided to run a mobile marketing campaign themed around "The 12 Days of Christmas." In order to participate, customers needed to text "RT66" to 55678, and once they did so, they started receiving notifications offering 20 percent off of a particular item during a single day.
You can guess what happened: Foot traffic though the store substantially increased. So did shirt sales, which rose by 250 percent, and sales of helmets (up 20 percent) and leather jackets (up 16 percent) didn't do too shabbily either. What's more, membership in its promotional club grew considerably.
You've probably noticed that one of the side effects of marketing through SMS is that a company's prescreened list of promotional participants grows. That doesn't have to be of secondary importance. Some companies employ SMS solely because it's great at building databases.
The authors of the 2014 Harvard Business School case study "Starbucks Coffee Company: Transformation and Renewal" heap lots of praise on Starbucks CEO Howard Schultz for saving the firm from a potentially disastrous downturn. They place particular emphasis on My Starbucks Rewards, a program that increased repeat visits, led to customers loading $1.2 billion onto Starbucks gift cards in a single year, and prompted the development of the company's mobile payment app.
What the case doesn't reference is that Starbucks built the program on the back of SMS messaging. By texting "GOLD" to "697289," customers could register for the program right from their smartphones and immediately begin earning points.
Note the use of the word "immediately." Recognizing that people have to wait for their barista-crafted beverages, Starbucks wisely positioned this promotion right next to drink counters.
Carl's Jr. also knows how to get people's attention. Known for running raunchy television spots with scantily clad models munching on mounds of meat, the burger chain has always chosen the direct approach when it comes to communicating with customers.
The company offered a 50 percent discount on a particular meal combo—but only if participants had opted in to receive the company's SMS messages. A full 20 percent of that eventual database ended up redeeming mobile coupons.
And this wasn't a one-time effort. Carl's Jr. continued its mobile marketing efforts by sending five-or-so messages a month and cross tabulating contacts with zip codes, providing better point of sales system integration.
Speaking of integration, every company reaches a point where it has to fold new kinds of business into its fabric or see current operations torn away by price pressures. Some firms have viewed SMS as a workable option for expanding markets.
When you hear about The New York Times, thoughts of epic sports journalism probably don't spring to mind. No wonder. The Gray Lady built her reputation on covering political and international news, being a paper of record rather than covering the squishier side of current events.
Alas, accolades don't always translate into windfalls. The Times has struggled mightily with profitability in recent years, so when the 2016 Summer Olympics started in Rio de Janeiro, it saw an opportunity to connect with a wider demographic. Texting "RIO" to 63937 allowed participants to receive daily messages from The Times' deputy sports editor Sam Manchester.
"People have asked, 'Couldn't you just do this on Twitter?'" said the newspaper's Director of Personalization Andrew Phelps. "We could, except this is a much more personal relationship. We can show up in the same place as your friend, your mom, and your work colleague."
That isn't mere hyperbole. Manchester actually responded to participants, albeit not every single one. Additionally, he fired off photos and GIFs straight from the sidelines. More than simply reaching a largely untapped market, this approach provided The Times with a sheen of approachability. After so many years of organizations talking at audiences, people seem to prefer having the ability to offer their proverbial two cents' worth.
Appropriate interaction also matters when businesses collaborate. No organization can do everything, and mutual need or corporate synergy can drive companies to cooperate rather than compete. Such accord can take many forms, anything from cross branding to joint ventures to equity alliances. And when businesses need to work together, many employ SMS to help in building strategic partnerships.
Coca-Cola is the king of carbonated beverages, and March Madness is the monarch of college hoops. Joining forces was only natural. When Coke decided to work with the NCAA during the 2012 Division I Men's Basketball Championships, it had audiences incorporate their cell phones into the viewing experience.
Cross-branded on-air alerts offered qualification for prizes for anyone who texted various keywords to 2653. It was rather ingenious. Marketers and business gurus alike have praised interactive approaches for keeping individuals engaged, and Coke got to promote a particular soda (i.e., Coke Zero) while simultaneously keeping eyes fixed on the NCAA's programming.
Programming also played a big part in Macy's strategic partnership with NBC. The network was running a reality show called Fashion Star where contestants would craft various looks with the help of celebrity mentors such as Jessica Simpson, Nicole Richie, and designer John Varvatos. Supermodel Elle Macpherson served as the original host.
The show ran for two seasons, and Macy's sold the winning outfits on the heels of the program's episodes. But rather than run print or television spots, the company ran an SMS-based mobile marketing campaign that had prescreened customers ordering the new looks from their phones—right then, right there.
A strategic partnership that required even more coordination than the collaboration between Macy's and NBC was an Applebee's initiative with ESPN and Pepsi. The restaurant chain started a promotion that would take lucky prizewinners behind the scenes of ESPN's long-running Mike & Mike radio show. The grand prize put one person into the producer's shoes for Mike & Mike for a whole day. Other rewards included free grub and tickets to sporting events.
As you've probably guessed, Applebee's positioned this promotion with a mobile marketing campaign and included the traditional caveat that "to participate, text a photo or hashtag" ("#AllInToWinSweepstakes," in this case). But the restaurant chain also snuck another code into local stores, gently prodding consumers to show up at physical locations. More than simply having three corporations present a unified front, the campaign also represents an impressive act of consistency for Applebee's.
Companies often inadvertently split their online and physical presences, confusing customers with mixed messages from various marketing pipelines. Here Applebee's kept things compellingly coherent, a boon for any business.
Revenue and corporate cooperation and branding are far from the only reasons to run an SMS campaign. Readers of this blog know that I have a particular passion for charitable endeavors, and I believe that SMS is wonderful at advancing advocacy and promoting goodwill.
No matter if you're a SeaWorld-abhorring empty-the-tanks advocate or someone who prefers to think about people eating tasty animals, you have to admire the ingenuity of peta2. The youth-focused arm of People for the Ethical Treatment of Animals staffs itself with millennial activists, sells temporary-knuckle-tattoo slogans, and conducts tons of interviews with like-minded celebrities.
It also knows that members of its target demographic are positively glued to their smartphones. So when peta2 wanted to promote its "Animals Don't Smoke" campaign (a petition calling for cigarette companies to stop testing tobacco on animals), it set up a tent at The Warped Tour and used mobile marketing to drive people there. Once attendees at the raucous festival texted "BUTT" to peta2's code, they received a notification that they had won a prize to be picked up at the group's tent. They were also asked if they'd like to sign the petition.
General Mills took a less aggressive approach. As part of a goodwill-building measure, the cereal manufacturer partnered with Simon & Schuster and unobtrusively asked members of its database to donate to the charity First Book, a group that provides reading material to low-income families. By texting "BOOKS2KIDS" to the appropriate code, respondents could send $5 to the charity. Note that this campaign also required cooperation with cell providers since the funds would come off of participants' phone bills.
There you have it, 12 companies who found ways to further their business through SMS. You can see why I love this technology.
But even I would say that it's far from foolproof. For every five or six companies that excel with SMS, there are a couple who end up running afoul of the authorities.
Here are 2 that bombed…
It must've seemed a natural step for Jiffy Lube to cull mobile numbers from paid invoices and text them a coupon for 45 percent off of future oil changes. Everyone likes saving money, right?
Perhaps, but not everyone appreciated the unexpected messages. What's more, the Telephone Consumer Protection Act forbids shooting off texts without obtaining the express consent of recipients, which is exactly what Jiffy Lube had done. The company ended up getting sued and settling for a whopping $47 million.
Papa John's has found itself in similar hot water more than once. In 2012, a class action lawsuit totaling $250 million alleged that the pizza vendor spammed cell phones with unauthorized messages, as many as 15 per day for some recipients. And just this month, a California man leveled another suit against the chain, claiming that it had bombarded him with texts for a full year despite repeated requests to remove his number.
Indeed, running afoul of authorities is one of the main ways to sink your SMS efforts. The government has enacted strict rules, and with good reason: People virtually live on their phones, and the very ubiquity that makes this technology so successful also opens it up for exploitation. So be legal. Be ethical. Be innovative. And SMS success will have a hard time not finding you.
April 13, 2021
As you have probably heard by now from the SMS providers you have accounts with(Twilio, Plivo, Telnyx, etc...), mobile carriers...
Read More