Looking for new ways to invest in marketing for your business?
Wondering if bulk SMS software is the right choice for you?
SMS marketing comes with plenty of advantages and can be a huge help for any type of business. For some businesses, however, SMS marketing is absolutely crucial. Your business may be missing out if you're not creating strong, results-driven SMS marketing campaigns.
Below we'll look at the top signs that your business needs bulk SMS software.
1. You Want To Connect With Your Customers
SMS marketing can be a huge help when it comes to developing closer relationships with your customers. It gives you the opportunity to be more personal with your customers and can work well to speak to customers directly.
While email messages tend to seem a bit more formal, SMS messages can allow you to be a bit more creative.
Additionally, bulk SMS software can allow you to do a lot when it comes to narrowing down your different types of customers and targeting them based on their specific needs and interests.
This targeting will allow your communications to be even more personal. You'll be able to speak to your customers about what they are actually interested in hearing about.
2. Your Business is Focused on Service
If you have a service-focused business it is very important that you start using SMS software for your business. A service-related brand may receive a lot of phone calls that can be difficult to handle. It can also disrupt the workflow of your employees.
A call from a customer to set up an appointment, for example, could be much easier handled by using text messages instead.
Many customers even prefer text messages over phone calls, so it's a no-brainer. Switching to SMS to handle any service related communications can be a huge help.
3. You Have a Physical Location
Another sure sign you need to start using texting software is if you have a physical location.
If your business has a physical location, chances are that you get plenty of calls and inquiries about your address, your hours, and other common questions related to your location. These types of inquiries can be easily handled with smart SMS software instead of by an employee.
SMS software can allow your customers to easily get answers to their questions without pulling your employees away from their work.
4. Call Volume is Getting Hard to Handle
While SMS marketing is great for small businesses, it can also be great for businesses that are quickly growing. It's a good idea to switch to text messages if your business is simply getting far too many calls throughout the week.
Whether your business is focused on service or if you operate another type of business, if your call volume is getting out of hand it's important to find a solution to deal with customer inquiries.
Texting can be a huge help for these situations. It can take a lot of common communication obligations off of your shoulders. It may even prevent you from needing to hire additional staff to handle a large number of incoming calls.
5. Your Email Campaigns Aren't Working
While email marketing can be effective, in many cases, emails go unopened. Email marketing also isn't usually as personal as a well-crafted SMS campaign.
Many customers don't check their email every day. However, customers always have their phone with them, allowing them to get any marketing messages you want them to in a timely manner. You'll instantly get your message across to them.
If your email marketing campaigns are falling short or you aren't getting the engagement that you would like to, you may want to consider using SMS marketing messages to connect with your customers instead.
6. You Want Instant Results and Leads
If you want or need quick results, it's important to invest in a bulk SMS marketing software platform for your business. When compared to email marketing, SMS marketing is far more instantaneous.
This opens up a lot of new opportunities for the way that you market your business. You'll know that many customers will get any marketing message you send them immediately.
Since email messages can go unopened for days, it's much more important that you advertise a sale or special offer well ahead of time. If you send it too late, they may not get it in time.
SMS marketing messages are opened far more quickly, making it a much better strategy if you want immediate results.
7. You Need Results at A Lower Price
If you're looking for a cost-effective solution for your business marketing efforts you can't do much better than SMS marketing. Using SMS software can really pay off, getting you more instant results at a lower price than many other marketing methods that are available to your business.
Also, unlike other types of marketing methods, you'll be able to take a far more targeted approach to interacting with your customers. Because of this, it's hard to beat the amount of value you get from using SMS software to market your business compared to other methods.
8. You Want to Make Things Easier For Your Customers
Let's face it, in addition to all of the signs mentioned above, chances are you may just want to have happier customers.
You should realize that SMS marketing can go a long way in simplifying things for your customers. SMS marketing techniques can provide value to customers and help them with common issues or questions.
If your business offers online account features for customers or relies heavily on email marketing or phone calls, you'll be removing a lot of hassle by interacting with them through SMS instead.
There will be no more need to click to sign into an account on your website, enter their username and password, and then click through to get the account details they are looking for.
SMS software can simplify the way your customers receive information, and your customers will be sure to thank you for it.
Is it Time for a Move to a Bulk SMS Software System?
While you may or may not have considered using text marketing software before, by now you should be getting a pretty good idea of whether it's the right choice for you.
If you recognize any of these signs in your business, it may be time to get the right SMS software and take your marketing efforts to the next level.
Looking for the best bulk SMS software around? Click here to take UltraSMSScript for a test drive and see exactly what you can expect from a powerful SMS solution.
December 20, 2018
When subscribing to text messaging services, you have probably heard about SMS and MMS. This article will educate you by...
Read More
The best way to experience the platform is to take it for a test drive.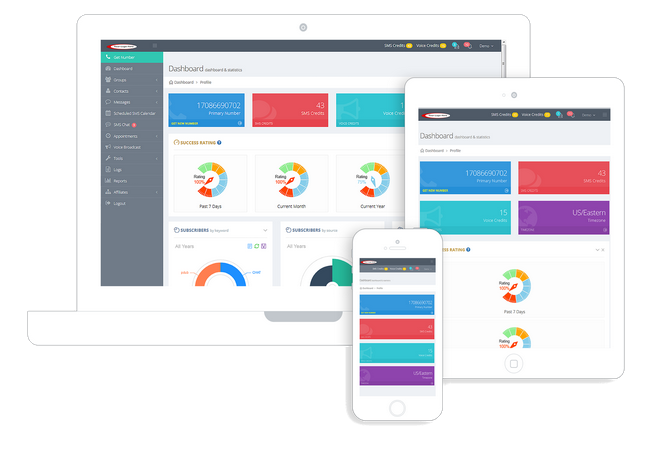 USER PANEL Username & Password: demo
* Contact us for admin panel credentials