Asking customers for their opinions about your business can feel like a double-edged sword.
The positive feedback can be a confidence booster, and the negative feedback — well, not so much. But even the negative feedback you receive via text messages can be a blessing in disguise.
SMS polling, also known as text-message voting, allows customers to share opinions about your company. You can use their feedback to improve your business. After all, knowledge is power.
Still not convinced about the benefits of SMS voting? Here are the top reasons to give it a try!
What Is SMS Polling?
SMS voting is a handy tool for discovering what users think about your company's services or products. It allows you to stay up-to-date regarding your clients' needs.
The best part about SMS polling is that it's virtually all-inclusive. In other words, you can take advantage of it in just about any industry, including the following:
Recruiting and staffing
Entertainment
Religious
Medical
Car sales
Spas and salons
Nightclubs and bars
Restaurants
Retail
Real estate
No matter your industry, all you need is a solid questionnaire coupled with a database of your customers' phone numbers to have an effective polling system.
How Does It Work?
Let's say your company sells homemade soaps.
To use SMS polling, you'll first want to choose a telephone number to which each customer can send his or her vote. Then, you'll want to come up with three products from which customers can choose.
Visitors can then choose from products A, B, and C, and send an SMS featuring their selections to your phone number. Your software will then count these votes.
Sounds simple, isn't it?
Accurate Customer Insight
One of the biggest reasons to use SMS polling? You no longer have to wonder if you're truly pleasing your customers. You can know it for sure.
A voting campaign will provide you with insight into your customers' experiences, desires, and expectations.
For instance, retail stores can ask subscribers which holiday sales they would like to see for the upcoming season. The benefit is twofold. Stores learn what will draw customers to their establishments, and customers feel appreciated.
Instant Feedback
Cell phone users read the majority of text messages within three minutes of receiving them.
What does that mean to you? It means that you can engage with a large percentage of your customers through a well-thought-out SMS voting campaign.
Simply send them a questionnaire shortly after they've made a purchase from you. You'll obtain customers' feedback when the details of their purchase experiences are fresh in their minds.
The icing on the cake is that you can view your results almost instantly.
Also, with a top-notch SMS voting service provider, you can take advantage of computerized calculation. This helps you avoid many of the errors that often occur with traditional ballot voting.
Convenience
Another reason to use SMS voting? You can receive invaluable feedback from customers without having to pay a fortune for it.
SMS polling is less expensive than other polling methods are partly because it doesn't require much manpower. All you're working with is system-generated messages that are sent to customers regularly.
In addition, it's quick and simple for both you and the customer to use. Not to mention that it increases audience engagement!
With this strategy, you'll know your clients' needs and get helpful suggestions for improving various aspects of your business.
This solution ultimately helps you have a direct and open connection with people, which will lead to more loyal customers.
Create Buzz
One of the neatest things about creating a new SMS poll is that you can create major buzz around your company's latest offering.
For instance, maybe you're interested in offering a brand-new dish at your restaurant. Not only will a poll inform you of what your customers may be interested in trying, but also make them excited about your potential new menu item.
Preferred Among Customers
The more you use SMS voting, the more you'll realize that customers prefer to use this method versus the traditional ballot method.
With the ballot method, the voter has to be physically present at the voting location. That's not the case with SMS polling.
Customers will be able to vote and rate your services anytime, anywhere. They don't even need an Internet connection.
Additionally, just as the cost of sending messages to your customers is minimal, incoming text messages are free for the client. You can't beat that.
Knowledge about Competition
One of the biggest perks of cleverly employed SMS voting is that you won't just learn about yourself.
This method can provide valuable insight into your competition too. You'll know how they attract clients and where they fail.
Companies often use SMS voting to find out how customers feel about their competitors. The more research you do on your competitors, the more effectively you can beat them.
Get Expert Help
We offer a self-hosted, enterprise-level group text plus SMS marketing platform. With this service, you can easily manage your own SMS marketing campaigns.
Unlike other providers, we don't require you to make a recurring commitment. Instead, you just pay for our cutting-edge software once. There are no hidden fees.
Also, for the text messages you send, you'll likely end up paying no more than a quarter of a penny per text message. We are linked to the critical text-messaging gateways, meaning that you pay only for the wholesale costs of text messages.
Plus, we support two-way messaging in more than 30 countries, so you can easily receive and send messages to local numbers in those areas.
Want to find out more? Get in touch with us to find out more about how we can help take your business to the next level with SMS polling!
December 20, 2018
When subscribing to text messaging services, you have probably heard about SMS and MMS. This article will educate you by...
Read More
The best way to experience the platform is to take it for a test drive.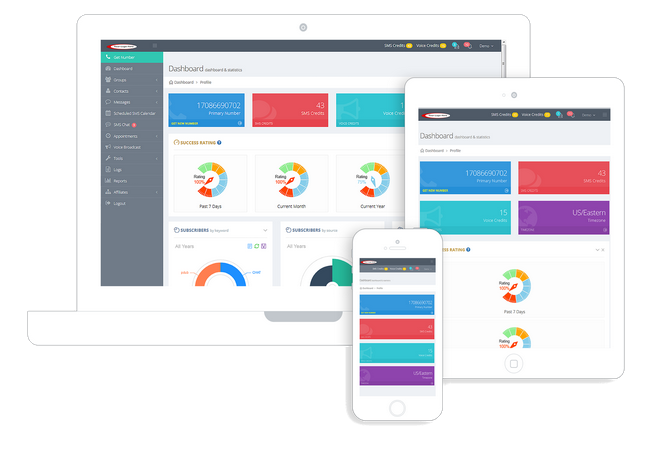 USER PANEL Username & Password: demo
* Contact us for admin panel credentials