With a 98% open rate, SMS is an efficient channel for businesses to deploy to reach customers.
But where to begin and how is the bulk SMS price even calculated?
With SMS being a mature digital channel, there are best practices your business can employ to take advantage of this cost-effective way to reach more customers.
Read on below to discover a few ideas and case studies that can apply to your business.
What Can Influence the Bulk SMS Price
There are many variables including currencies and delivery costs that mobile networks charge depending on the country.
A bulk SMS provider should average the price per SMS. This will can help account for fluctuations in currency, for example.
For you, the business doing the SMS campaign, a set price for a set number of messages helps keep things simple.
A Few Pointers
Below are a few tips to help ensure you get a good bulk SMS price:
Cheaper isn't always better. Choose a provider that can prove its reliability and quality.
Check out a few providers. It doesn't hurt to ask about their reach and history of their relationship with regional mobile network operators.
Negotiate. Some companies will be open to negotiation on the bulk SMS price.
How Pricing is Typically Allocated
SMS messages are usually allocated in blocks. The larger the quantity, or block, the large the discount.
For example, a relatively small block of 200 messages might have a 0% discount. If you scale that up to 10,000 messages, a discount of 5 – 10% could apply.
Ask the vendor if fees apply for activation or authentication.
Case Study #1
Bulk SMS isn't just for marketing applications.
An American cosmetics brand used the medium for a 6-month SMS "geofencing" pilot, across 45 stores.
The geofence, in this instance, was set to apply to a set parameter or specified distance, for example within a 5-mile radius of a store location. There's one important thing to note: customers had to opt-in since this campaign required sharing the customer location with the retailer.
The cosmetics retailer sent up to three location-based SMS messages within a month. These messages featured various incentives and coupons.
With 6-months of data to review, the final numbers showed 73% of customers has signed up for the SMS alerts. 81% could recall receiving one of the messages.
Case Study #2
In our next case study, we profile a major U.S. fast-food chain. This campaign gained over 13,000 SMS subscribers in just 5 weeks.
The coupon offered to customers via SMS included a free product with a qualifying purchase.
With this being a major company, they had the media dollars to amplify this campaign using radio and television channels. In the end, they sent 29,500 coupons with a whopping 93% of customers still subscribed after a month.
Benefits of SMS Marketing
Since SMS is a relatively old medium, people forget that it can be a great way to get your business's name out. After all, most people use SMS every single day.
Better Open Rate Compared to Email. The open rate for SMS is arguably the highest out of any digital media channel
Cost effective. We're talking pennies, or fractions of pennies, per message
Mobile friendly. With people glued to their smartphones, this is where the eyeballs are
Wide demographic. Using SMS as a tactic to reach customers doesn't just reach one demographic or a narrow segment of the population
One thing to keep in mind is that SMS also integrates well into multi-channel campaigns, such as allowing people to opt-in via social media.
Flexibility for Your Business
SMS as a digital medium is versatile. There are several ways it can integrate into your media plan.
Temporary discounts, customer loyalty programs, new product promotion, and news updates are all great reasons to go the SMS route.
Compared to big media budget TV or print campaigns, you can be a small company and use bulk SMS and go toe-to-toe with much larger companies. Bulk SMS price plans keep your company within budget.
Make Bulk SMS Work for You
With its impressive reach, scale, and cost-effectiveness, bulk SMS messaging should be the next weapon you deploy to reach your customer base.
Reach out to us and we'll be happy to answer all of your questions.
December 20, 2018
When subscribing to text messaging services, you have probably heard about SMS and MMS. This article will educate you by...
Read More
The best way to experience the platform is to take it for a test drive.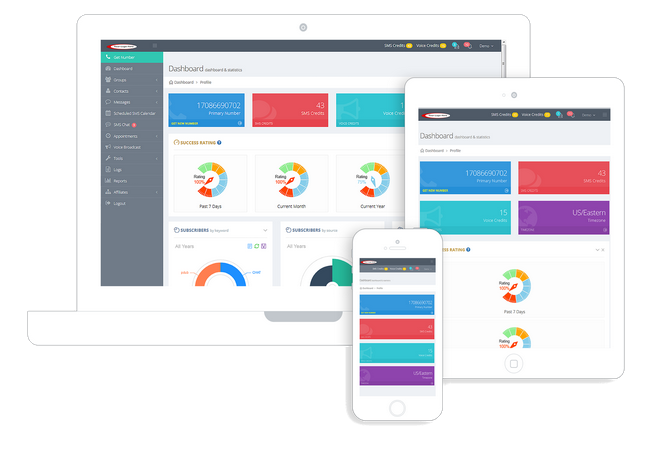 USER PANEL Username & Password: demo
* Contact us for admin panel credentials