More than 92% of adults in the United States own a cell phone. This figure includes both smartphones and regular mobiles.
Many rely on phone calls and emails to share information while at work. But, bulk SMS marketing could play an important role during emergencies.
Here is how a mass texting service can help keep your employees safe.
The Value of Bulk SMS Marketing in Emergency Situations
Companies across the world have systems in place in case of emergencies. Some use apps, others email, and some even use phones. But, the power of SMS may be the most reliable.
Phone lines can become jammed with calls during emergencies. Emails can take time to write. And, data networks suffer outages that can leave you off the grid for days, if not longer.
When an emergency situation unravels, text message services almost always continue to work.
In an emergency situation, you may not have time to spare. Mass text software can help you get your message across to everyone in a matter of seconds.
With this service, you can:
Notify your team of any danger
Send information about security risks
Update family members on any developments
Examples of Emergency Scenarios
Your emergency action plan should address every possible eventuality. Unfortunately, some are unpredictable. Here are some emergency situations in which you should contact your team members:
A bomber or active shooter
A burglary
An external threat such as a riot
A fire
A natural disaster
Why is SMS the Answer?
Sending text messages is second nature. It's how we communicate with our family and friends.
Additionally, text messaging has the highest engagement rate compared to emails. In fact, research suggests that about 90% of SMS messages are read within three minutes of delivery.
With this in mind, bulk SMS marketing is essential to delivering business-critical information. It is also great for keeping your teams safe when they need it most.
Not only this, sending a text message gets your point across quickly. You don't have to find a quiet area to speak. Messages arrive within seconds. And, you can skim through all social courtesies and get to your point in a more efficient way.
The Benefits of Texting in the Workplace
People often rely on email in the business world. But, in reality, many of us don't even read all our mail.
In one day, it's possible to receive dozens if not hundreds of emails. Skimming through all of them is near impossible, especially if you're bombarded with spam.
With this in mind, it's unlikely that you or your employees will sort through their email to get information during an emergency situation.
In 2012, more than six billion SMS were sent each day and more than 2.2 trillion each year. With this in mind, it's safe to assume that most of us can be reached via this format.
Incorporating bulk SMS marketing into your business will allow you to send and receive important and time-sensitive information.
Additionally, SMS is affordable and more effective than other marketing channels. Aside from keeping your employees safe, it's also an effective sales tool and a great way to leverage an already engaged audience.
Implementing Emergency SMS Alerts
While SMS can get you out of a sticky situation, you need to couple it with the right emergency action plan to make it efficient.
You should also rehearse this plan with your employees to ensure everyone is on the same page.
Here are some tips for implementing an emergency SMS action plan:
1. The Chain of Command
In case of an emergency, your teams should know exactly who to contact. As they do with their line manager, your teams should report back with their status. This will ensure everyone is accounted for.
Choose a leader and create a contacts list to ensure everyone is aware of the situation and sent updates.
2. Create Policies
The person who first comes across the emergency in question may not be the highest in the chain of command. Regardless, your team members should all receive the appropriate training to best report the problem they encounter.
Make sure that all those involved know the importance of emergency text messages. Also, train them to know what to report on.
For example, their emergency messages should include the who, what, when, where so that you can establish the severity of the problem.
3. Develop a Lexicon
All messages should be clear and concise. They should not be confusing. You may want to consider creating a lexicon for your business in case of emergencies.
If you do choose to create a special shorthand to communicate during emergencies, training is crucial.
All employees must be well-versed in the language. This will ensure they can communicate all relevant information in an effective way.
4. Outline Expectations for Communications
During an emergency, it is common for people to want to know everything about the situation. While the right people need to know, too much communication can cause confusion. It can also cause chaos.
All recipients must know what your communication plan is. For example, you may decide to send updates at specific time increments. You may choose to send information as it unravels.
Keep everyone in the loop and discourage recipients from creating chaos. This could make the situation worse or even put people in more danger.
5. Practice Ahead of Time
The key to bulk SMS marketing is to practice. Even with the right written plan, if you don't practice it, you won't be able to put it into action.
Everyone in your office should receive the appropriate training so that they can safeguard themselves and others around them.
Conduct regular drills and training refreshers to ensure everyone is on the same page.
Get a Mass Texting Service for Your Business
Yes, you can save everyone's number in your phone and send a text when necessary. But, by opting for a mass texting service, you can get your message across in a quicker and more efficient way.
With UltraSMSScript, you can send SMS messages in bulk to your subscribers. By creating groups through our software, you'll reach your employees much quicker than with traditional SMS.
To find out more, visit our Try It Out page, where you can browse through our demo.
December 20, 2018
When subscribing to text messaging services, you have probably heard about SMS and MMS. This article will educate you by...
Read More
The best way to experience the platform is to take it for a test drive.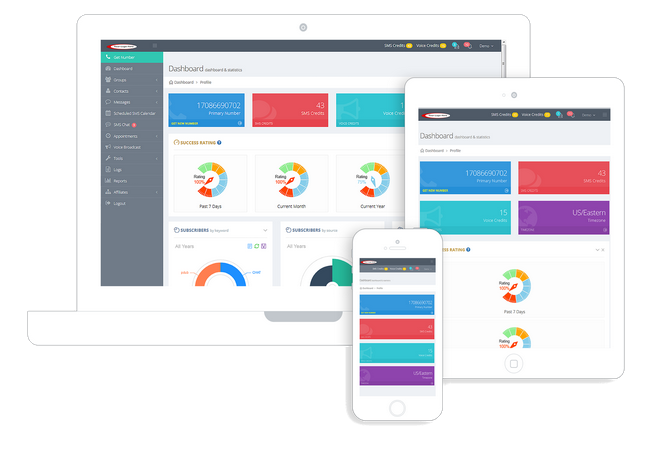 USER PANEL Username & Password: demo
* Contact us for admin panel credentials