What if your advertising could follow your customers wherever they go?
This may sound too good to be true. However, SMS marketing can put your marketing efforts right into the hands of your most interested customers.
Building awareness of your brand is just one of the benefits of SMS marketing. Read on to discover more about this marketing technique and why your company needs it.
Are the Benefits of SMS Marketing Unique?
SMS marketing is overlooked by some companies because they do not see its unique value. It sometimes comes across as too specialized to have a lasting impact on customers.
However, SMS marketing has become more important as consumers become increasingly reliant on smartphones. Marketing via still images and even video can seem disposable to customers. However, tailored text messages instantly build relationships between consumers and your brand.
Read on to discover five unique ways that SMS marketing can benefit your business!
1. Word of Mouth Influence
Traditional marketing often feels very passive. Consumers are likely to skip or tune out things like video advertisements if they do not feel an instant connection with the company.
This is why word of mouth advertising is such a powerful marketing tool. Consumers feel an immediate connection with other consumers and are likely to trust what they have to say.
The need for word of mouth is what has driven a culture of user reviews on sites like Amazon and entire apps such as Yelp. SMS marketing lets you channel word of mouth marketing for your own benefit.
SMS is the perfect way to offer things like special deals, coupons, and invitations to major events. Your marketing instantly transmits to customers, and they will pass along the special deals to their friends and family.
This helps consumers feel they have a special relationship with your business. They share that relationship with others, growing your consumers.
2. Focused advertising
Modern advertising is something of a paradox. On one hand, consumers appreciate detailed, well-crafted advertisements that stand out from the competition.
On the other hand, these advertisements can seem too dense or simply seem like you're trying too hard. Consumers may be confused by your message or even your product.
One of the main benefits of SMS marketing is that it provides focused advertising. This is because your messages are typically limited to 160 characters or less.
The limitation keeps your messages about as short as a Tweet or a short text from a friend. This encourages you to keep your message focused on a single feature, such as an upcoming deal.
Ultimately, this is a win/win. Your marketing will be unable to stray off-topic while consumers will be much likelier to read a very short message.
3. The Power of Impulse Buying
Certain forms of advertising never really change. One of those forms is that of the impulse purchase.
Impulse buying is what keeps candy and magazines right by the checkout counters at stores. Customers are likelier to take advantage of a special deal when they are already shopping.
Companies like Amazon now apply this mentality to internet consumers. This is what fuels things like "lightning deals" and "deal of the day" on the shopping site.
SMS marketing lets you take advantage of this by sending instantaneous deals to your customers. And you can easily time these deals for maximum impact.
For example, a restaurant can send out an offer for a free dessert on a Friday or Saturday night. Consumers are likelier to be out shopping or socializing, and much likelier to eat out.
If the customer doesn't know where they'll eat, your simple offer is likely to get them through the door. Best of all, it won't even feel like marketing. Most consumers will be happy that you gave them something for free!
4. Campaign Flexibility
The heart of your marketing department is your marketing campaigns. These are long campaigns that are often months in the making.
Because of this, some businesses are hesitant to embrace SMS. It may seem difficult to suddenly incorporate SMS marketing into an existing campaign.
However, one of the benefits of SMS marketing is how flexible it is. It is superior to social media in terms of both consumer impact and campaign usability.
SMS campaigns are great ways to share links to other marketing materials and to integrate things like campaign slogans. And they are likely to be read as soon as you send them.
That lets you quickly create short messages that complement your existing campaign. And you can penetrate potentially new markets while delivering advertising that is still on brand for your existing customers.
To put it another way, your existing campaigns have nothing to lose by integrating SMS marketing. However, they have everything to gain!
5. Environmentally Conscious
One of the benefits of SMS marketing that companies often overlook is that it is environmentally conscious. This can provide a number of advantages to your business.
First, being environmentally-friendly appeals to many consumers. Millennials in particular favor brands that are openly conscious about the environment.
Second, the environmentally-friendly approach also translates to savings. SMS campaigns do not require purchasing and using many supplies or hiring a large crew to create the campaign.
Finally, the environmental approach may help your company coordinate with state and federal regulations. And going out of your way to be eco-conscious will make you look good to the entire surrounding community.
The Bottom Line
There are more benefits of SMS marketing than you can shake a smartphone at. However, most businesses don't know how to effectively use them.
It's possible to master SMS marketing on your own. During this time, though, you may experience lost productivity and profitability due to not being able to focus on your existing strengths.
This is why you need an expert in your corner. At UltraSMSScript, we specialize in tailoring SMS marketing to your company's specific needs.
We can transform your business by sending the best advertising directly to your most willing customers. To see what we can do for you, be sure to try the demo today!
December 20, 2018
When subscribing to text messaging services, you have probably heard about SMS and MMS. This article will educate you by...
Read More
The best way to experience the platform is to take it for a test drive.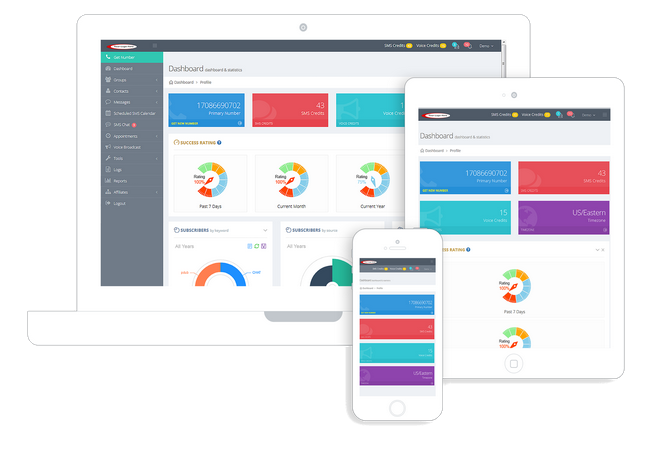 USER PANEL Username & Password: demo
* Contact us for admin panel credentials