An acquaintance I once met told me about a difficult commercial transaction he experienced while caring for a critically ill family member. This individual was so sick that everyone doubted he'd live out the next 12 months. So they decided to make his remaining days as happy and comfortable as possible. One of the things the ill person loved was crab cakes. Not the over-fried kind typically served up by restaurants, the sort containing more carb than crab. No, he loved jumbo-lump crab cakes from Maryland, the dish's birthplace. So his family found a restaurant that would ship the dish overnight from Baltimore all the way to south Florida. End of story, right?
Not quite. The guaranteed delivery time came and went. The family members called the restaurant, whose shipping department assured them that the package should arrive … sometime. The family waited. And called. And waited. And called. Eventually, they realized that the seafood in question would be totally inedible by the time it arrived, so they told the company that they were rejecting the shipment. Evidently, their communication didn't get through, because the doorbell rang about an hour afterward, and they discovered a stinking, sweating cardboard box waiting for them on their welcome mat.
Wouldn't timely notification of every step along the shipping process have made everyone's lives better? With SMS, it could have.
A new study from mobile-marketing firm Vibes reveals just how eager consumers are to receive this kind of relevant, up-to-the-minute information. Dubbed "service-based communication," it includes everything from payment reminders and reports on credit card activity to prescription refill reminders and (naturally) shipment notifications. "Transactional messages add value for consumers because they are personalized and include relevant and time-sensitive information," the report states. "This immediate utility results in strong engagement: Transactional emails are opened at eight times the rate of promotional emails."
But is email really the right medium for these sorts of communications? It certainly had its heyday during the first decade of the twenty-first century. But today's consumers aren't exactly glued to their computers. Instead, they get most of their electronic information via phones, interacting with them anywhere from 150 to 200 times a day. "Smartphones are consumers' constant companion, making them the optimal platform for delivering time-sensitive transactional messages." Indeed, 70 percent say that they prefer to receive such notifications on their phones, while a measly minority wanted them on laptops (12 percent) or desktops (9 percent).
It isn't a minor preference, either. Nearly nine out of ten (84 percent) said that timely communication about services impacted their choice of company, and almost one in three (29 percent) said it was a significant influence. Perhaps timeliness has something to do with it. Seventy-eight percent of respondents said that the messages which reach them faster come first to their phones. That might not seem like a big thing when it comes to charge accounts and due-now notices, but it can make all the difference with crab cakes.
December 20, 2018
When subscribing to text messaging services, you have probably heard about SMS and MMS. This article will educate you by...
Read More
The best way to experience the platform is to take it for a test drive.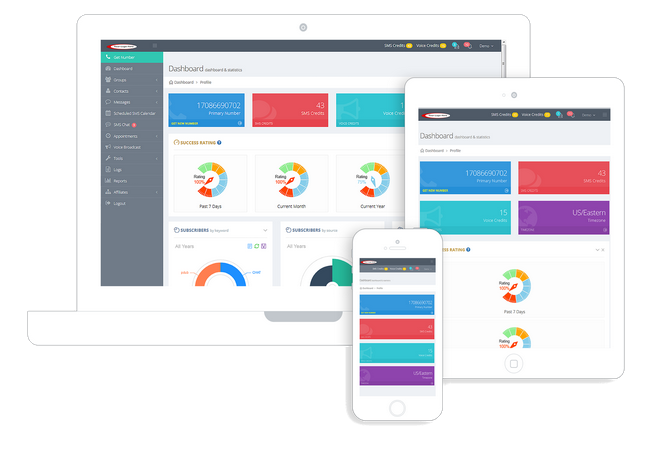 USER PANEL Username & Password: demo
* Contact us for admin panel credentials