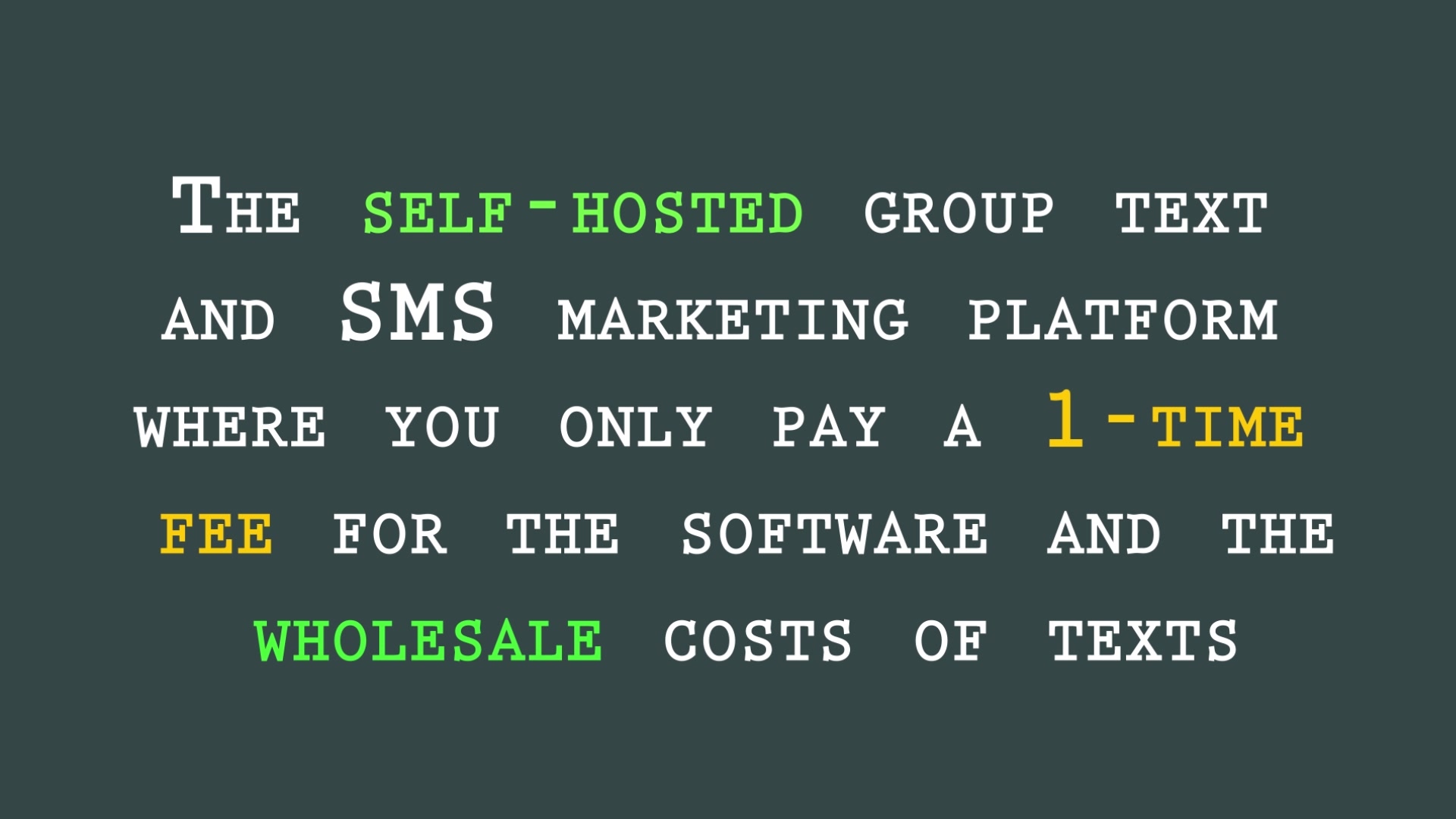 Most importantly, this is NOT a monthly subscription service that you see all over the web. With us, you are purchasing enterprise level web-based software that's installed on your own hosting server for whatever domain name you want. It's a self-hosted platform which gives you complete control and flexibility. You own the software and therefore you are NOT signing up to expensive monthly plans to use another company's software. These plans are all highly marked-up when looking at the cost per outbound SMS message you would pay compared to what it actually costs them. After all, they're a business, they offer a service, so they need to generate profit by marking up their SMS credits.
One of the distinct advantages of buying and installing our software rather than going with another SMS marketing service is with us, you are simply paying for SMS messages at what it costs the SMS gateways to send them, which in most cases is fractions of a penny! It's a usage based system where you ONLY pay, in real-time, for messages that you send at wholesale costs.
For example, if an outbound SMS message costs $0.0035(1/3 of a cent) through Plivo, that's exactly what will be deducted from your account balance. Going with another service would cost you anywhere between 4-10 cents per outbound SMS message, even though it would cost them only $0.0035 to send that message. I'm sure you can see the tremendous value and cost-savings here. There are no middle man costs since our platform links directly to the SMS gateways.
There are many SMS marketing services out there that charge around $50/month for 1,000 SMS messages for their mid-level plans, which equals 5 cents for each text message. Their lower level plans charge much more, sometimes around 15-20 cents per text message. Since you're only paying a 1-time fee for our software, which is built on the Twilio, Plivo, and Nexmo SMS gateways, you are also only paying for SMS messages at bargain basement prices. As you can see from the comparison tables below, you will cover the cost of our software MANY times over in a very short period of time.
To give you a clearer illustration, take a look at the 2 tables below…

Messaging Costs From a Popular SMS Marketing Service. Their messages cost anywhere from 4 cents to 10 cents per SMS message:

With UltraSMSScript, based on the same number of messages(assuming a .0075 cents per message):

With UltraSMSScript, you simply pay a small 1-time fee for our software, install it on your web host(or have us do it for you with our free installation service), create your Twilio, Plivo, or Nexmo account depending on which SMS gateway you want to use and link it to the software. Then you're off and running! It's that simple! All SMS and voice costs are simply deducted from your Twilio, Plivo or Nexmo account balance.
**For Twilio, to see the costs for SMS messages for your country, please click Twilio SMS pricing. For Plivo, to see the costs for SMS messages for your country, please click Plivo SMS pricing. For Nexmo, to see the costs for SMS messages for your country, please click Nexmo SMS pricing.
BOTTOM LINE: Pay for only what you use, when you use it, at wholesale costs!