SMS Software for
Every

Type of Business
Take a small tour through just a few of our core features and see how beautiful and intuitive our web-based user control panel really is!

Group/Keyword Management
Our group segmentation function provides you with an easy way to set up groups inside your text marketing lists. As a result, your contacts are organized into groups which permit you to maintain an organized subscription list and you know exactly where they came from! Assign your keywords to different groups and when someone texts in your keyword, they are associated to that group.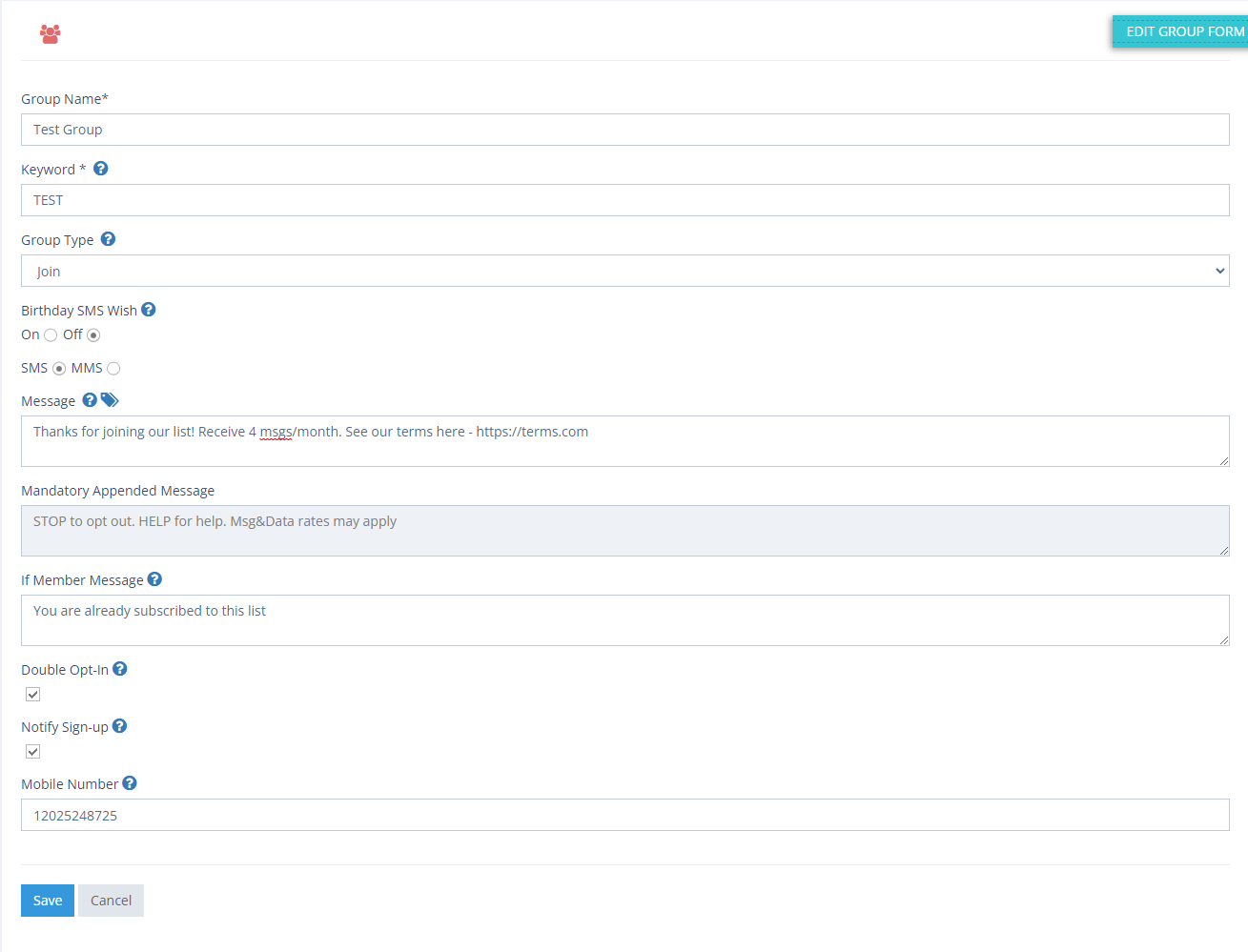 Dashboard: Groups
Property(Real Estate) Group Example – Maybe you're a realtor and want to send property information and updates to anyone who texts in your keyword. You can do that with our "Property" group type!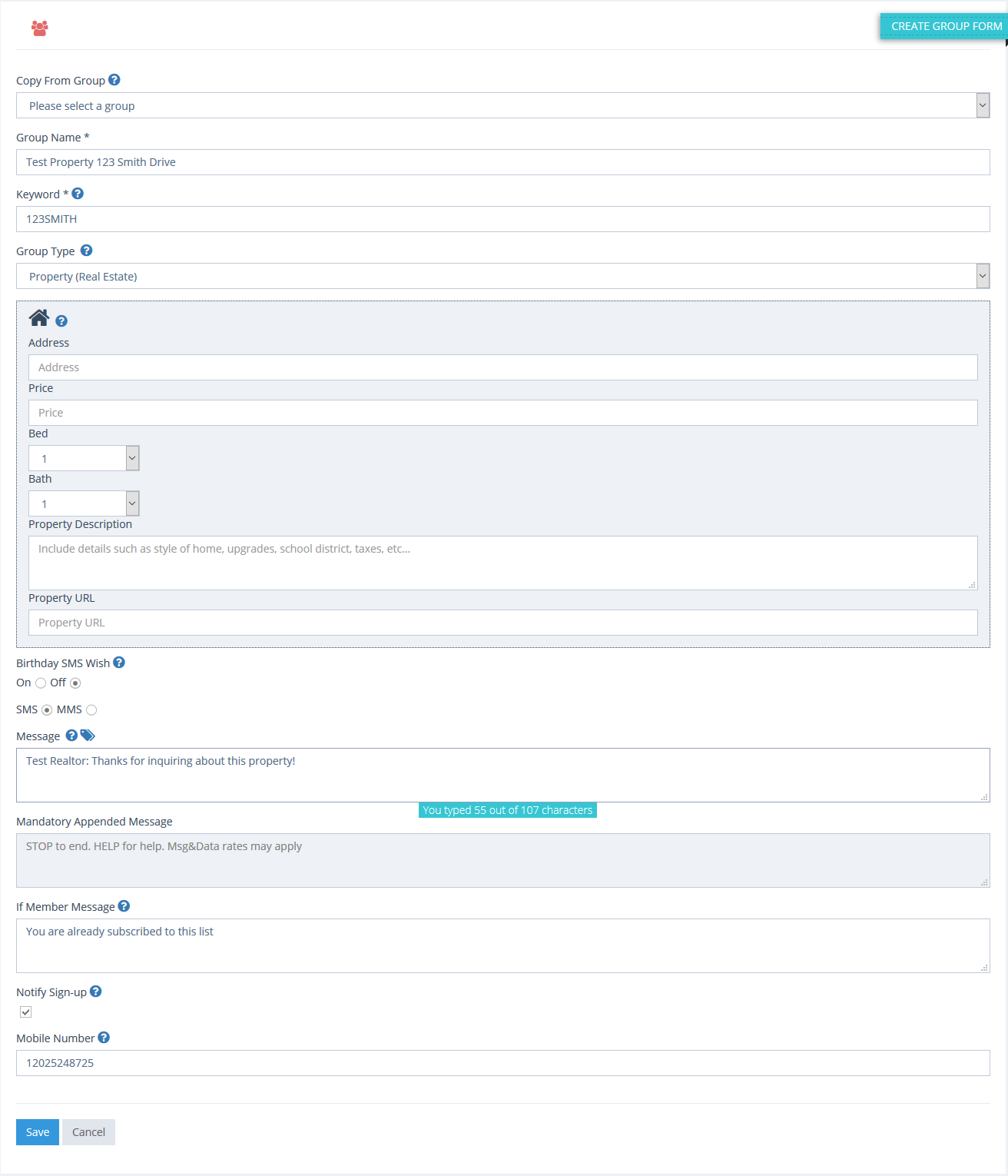 Dashboard: Groups

Contact Management
Use our contacts module to manage your subscribers. Every subscriber is added to your contact list according to the keyword they text in, which is set up in the system in our groups module. The web sign-up widget could be set up on a different website to add subscribers. They can also be added in stores via digital loyalty kiosks. See the source of every sign-up so you know exactly how you are acquiring your subscribers!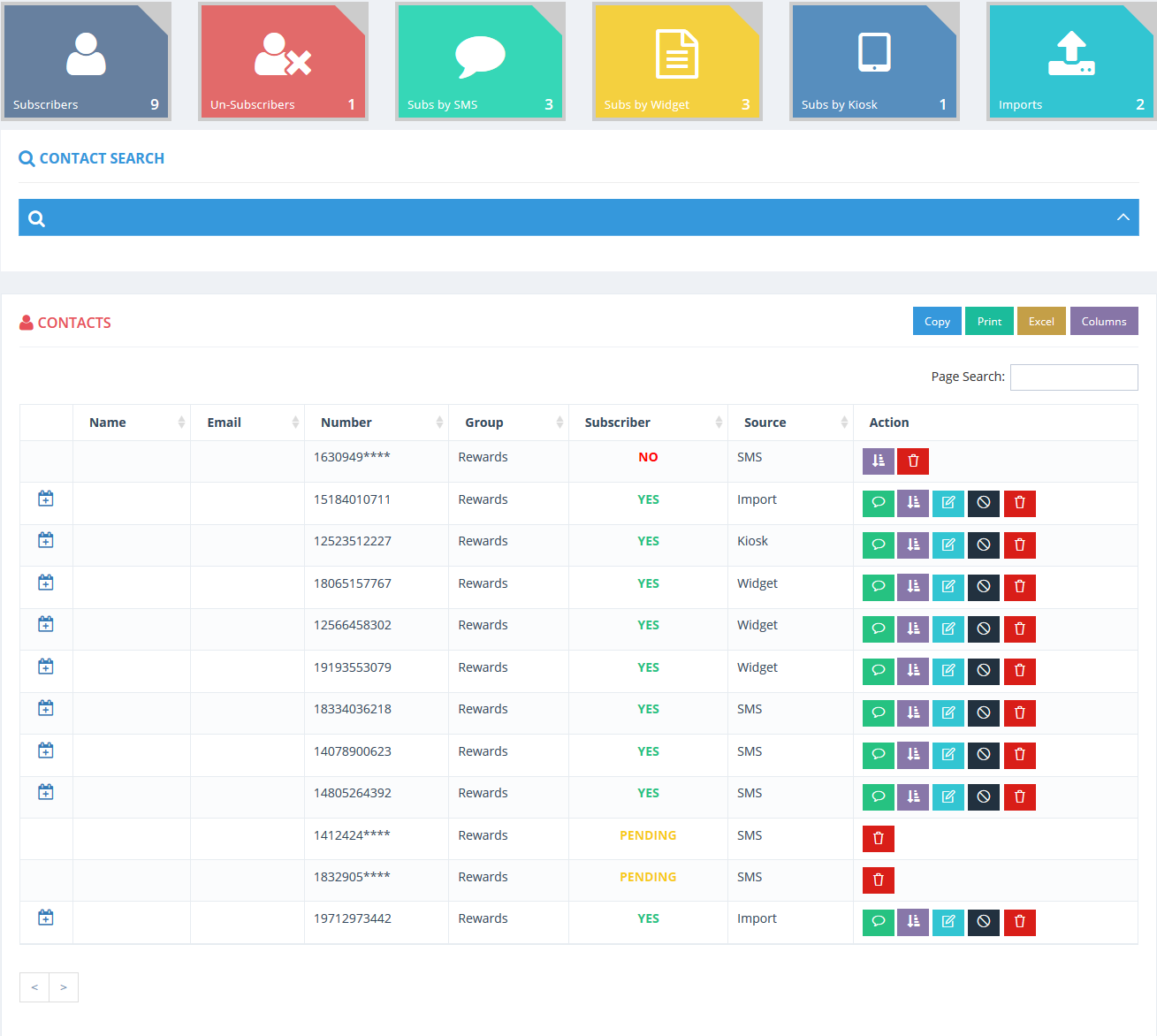 Dashboard: Contacts > Manage Contacts
Import Contacts – You have the ability to manually add and import contacts into the system via a .CSV file upload. You can upload these contacts in 1 shot if you already have a permission-based list that you collected somewhere else.

Dashboard: Contacts > Import Contacts

2-Way SMS Chat
With our online 2-way SMS chat tool, your mobile customers can connect directly with your customer service department via SMS! Chat with them in real time, similar to GTalk or Skype instant messenger tools, but the communication will be done via text messages. You will be able to actively engage with your clients using SMS chat, providing you with a new way to connect in real time.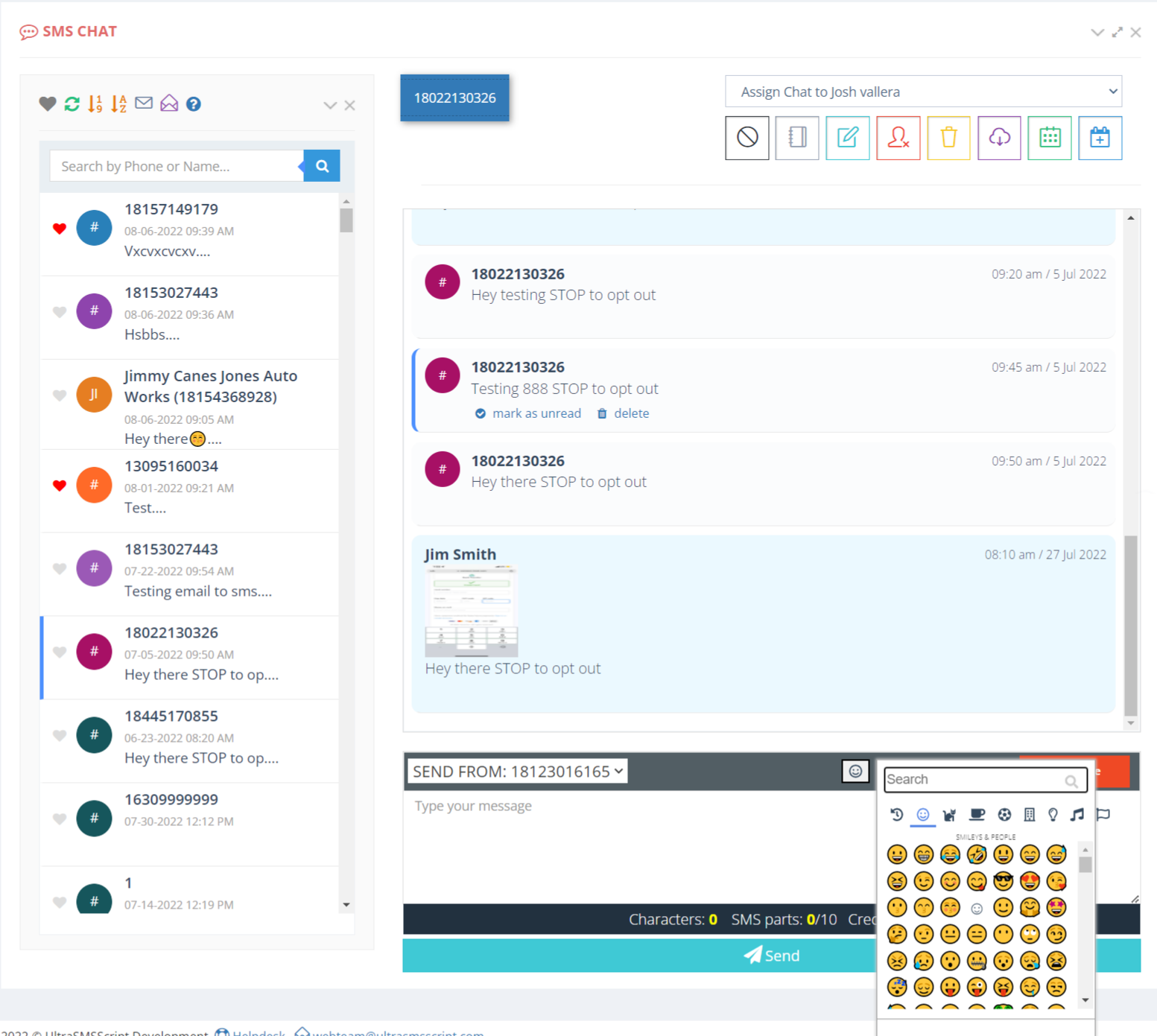 Dashboard: SMS Chat

Bulk SMS
Sending text messages to your subscribers in bulk is vital to any type of messaging campaign. Send to a single group or to multiple groups simultaneously using UltraSMSScript! Send messages from a pool of phone numbers for area code Geomatch to create localized experiences. Messages sent to the same person from the pool automatically use a previous recognizable phone number to create a consistent experience and increase response rate. Send all kinds of messages, from notification, alerts, and reminders to marketing messages.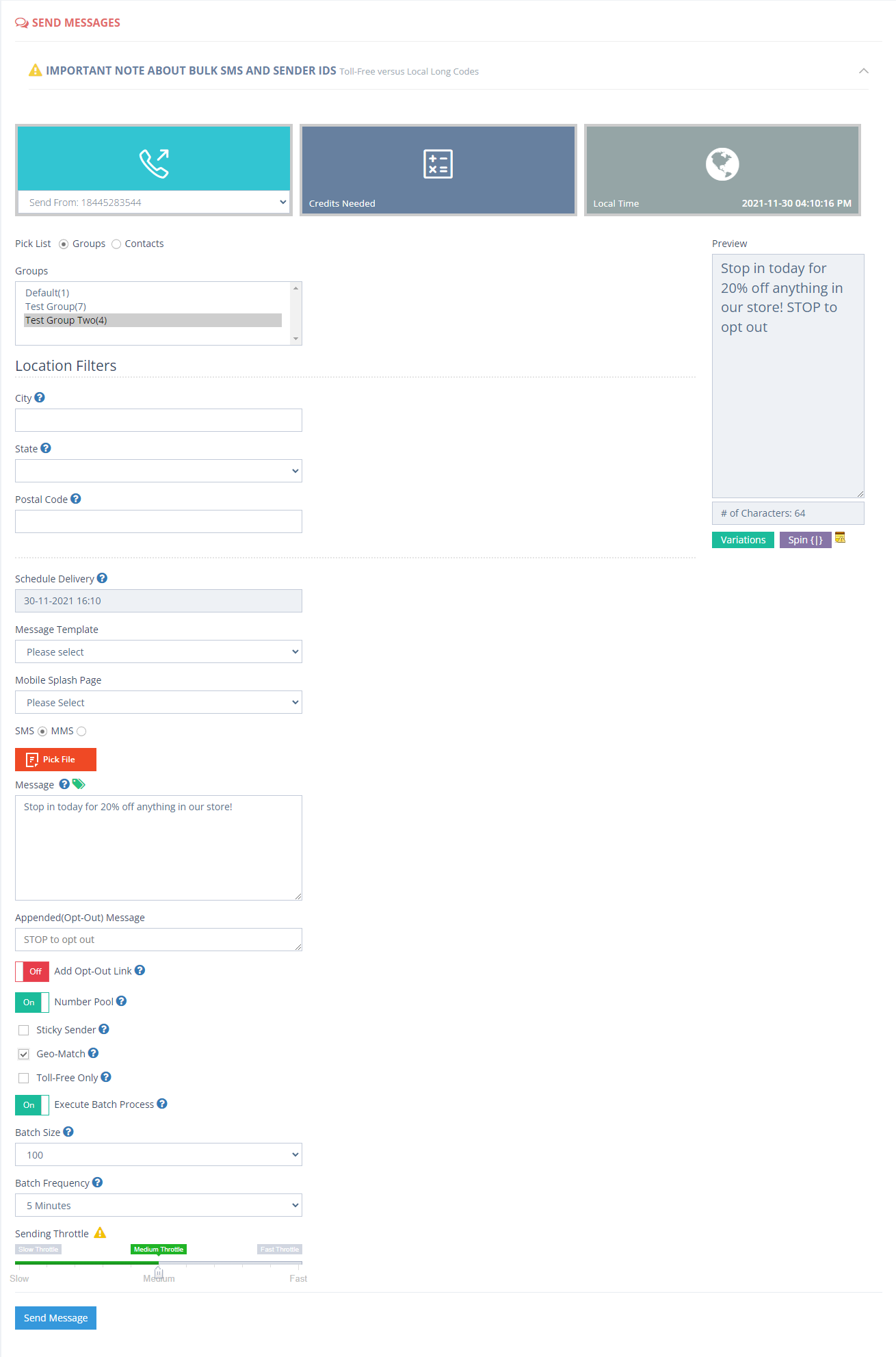 Dashboard: Messages > Send Bulk SMS

Bulk SMS Scheduling
With UltraSMSScript, users have total control over the timing of sending their text messages. Schedule them several months ahead of time and see what's in the scheduled lineup. Send them out right away, at a specific date and time, or maybe as a string of repeating events. Even schedule out your bigger jobs into smaller batches with the ability to pause and resume batches for finer control and flexibility of your Bulk SMS processing! UltraSMSScript gives you a complete calendar to show every scheduled event on a daily/weekly/monthly view while simultaneously giving you the capability to schedule from the calendar itself.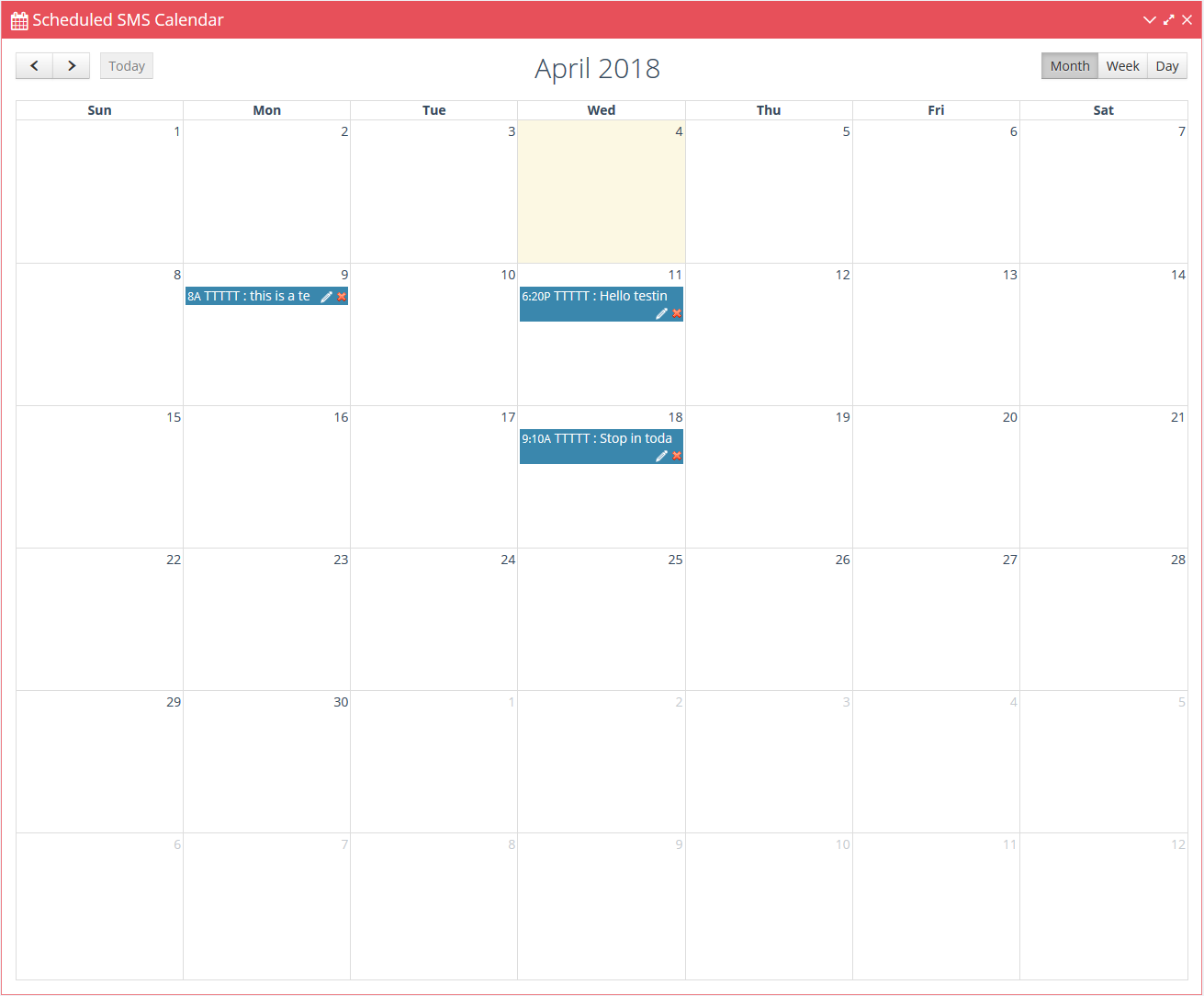 Dashboard: Scheduled SMS Calendar
Scheduled SMS Queue – List view of all your scheduled SMS going out to your groups and/or individual contacts.

Dashboard: Messages > Group Message Queue AND Dashboard: Messages > Contact Message Queue
Batch Message Queue – List view of all your scheduled Batch SMS going out to your groups. In this screenshot, you can see that the batch job has been paused/stopped. It had completed 2 batches and then stopped the remaining 2 batches.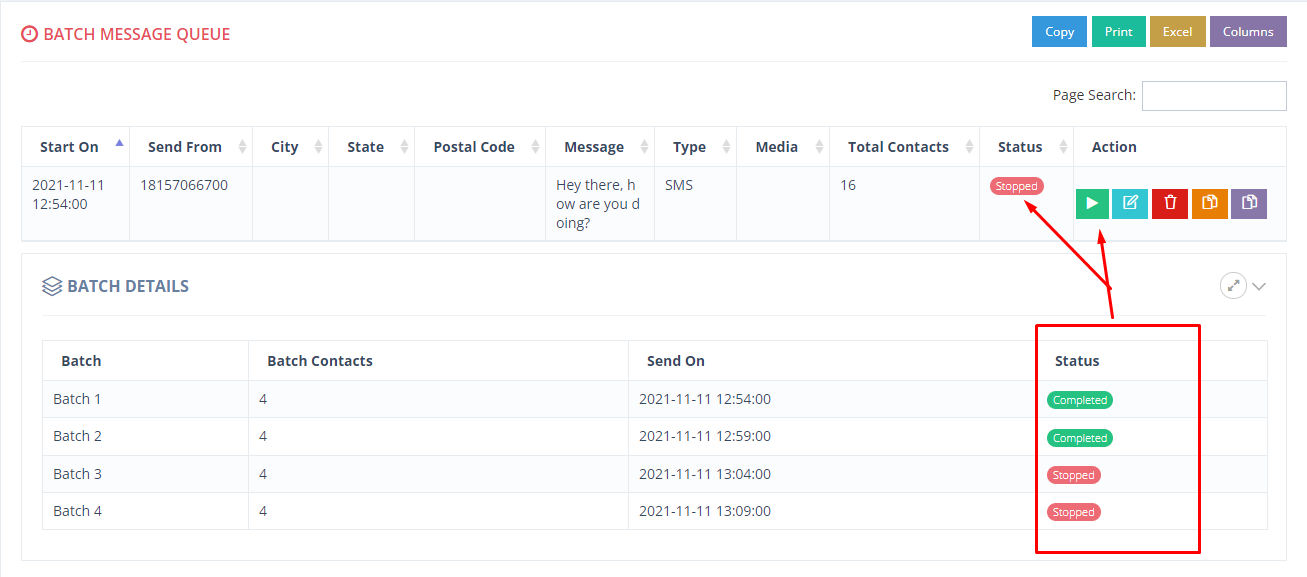 Batch Message Queue – List view of all your scheduled Batch SMS going out to your groups. In this screenshot, you can see that the batch job has been resumed. The 2 batches that were previously stopped have now been queued up again.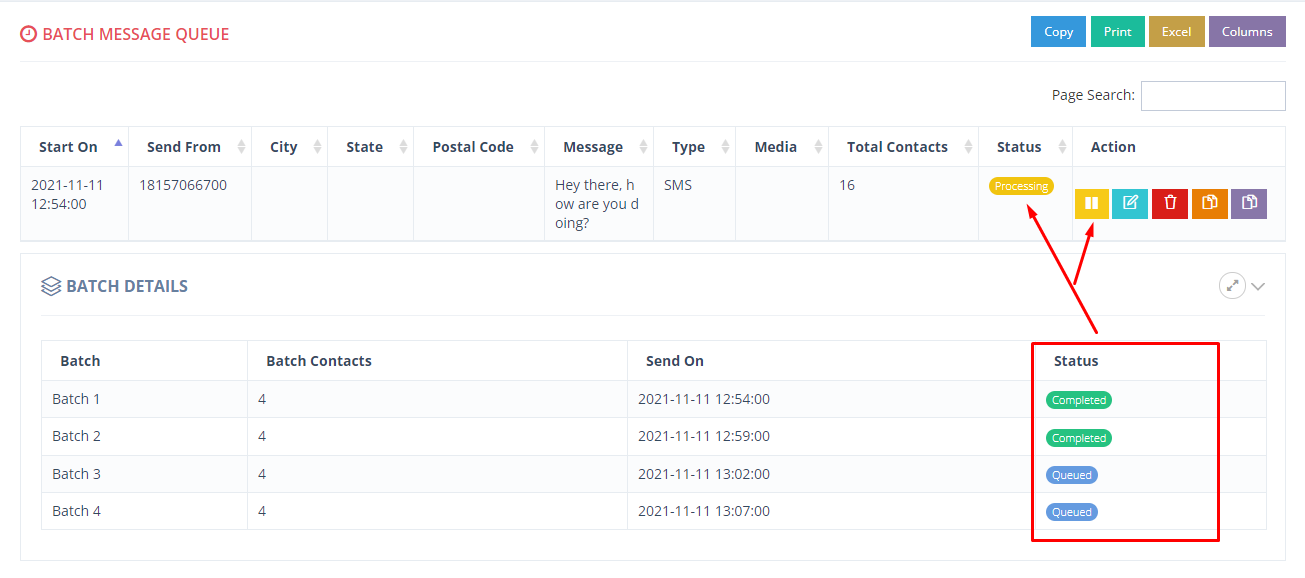 Dashboard: Messages > Batch Message Queue

Appointment Reminders
UltraSMSScript gives you the power to schedule and send appointment notifications to your clients making sure they won't forget about a scheduled visit they made. This is an effective way to minimize no-shows due to clients forgetting about their scheduled appointments. We provide a comprehensive appointment reminder system to monitor appointments, confirmations, reschedule and also cancellation requests!
Appointment Settings – You can setup confirm, cancel, and reschedule settings which will determine what to do when the contact texts in your respective keywords.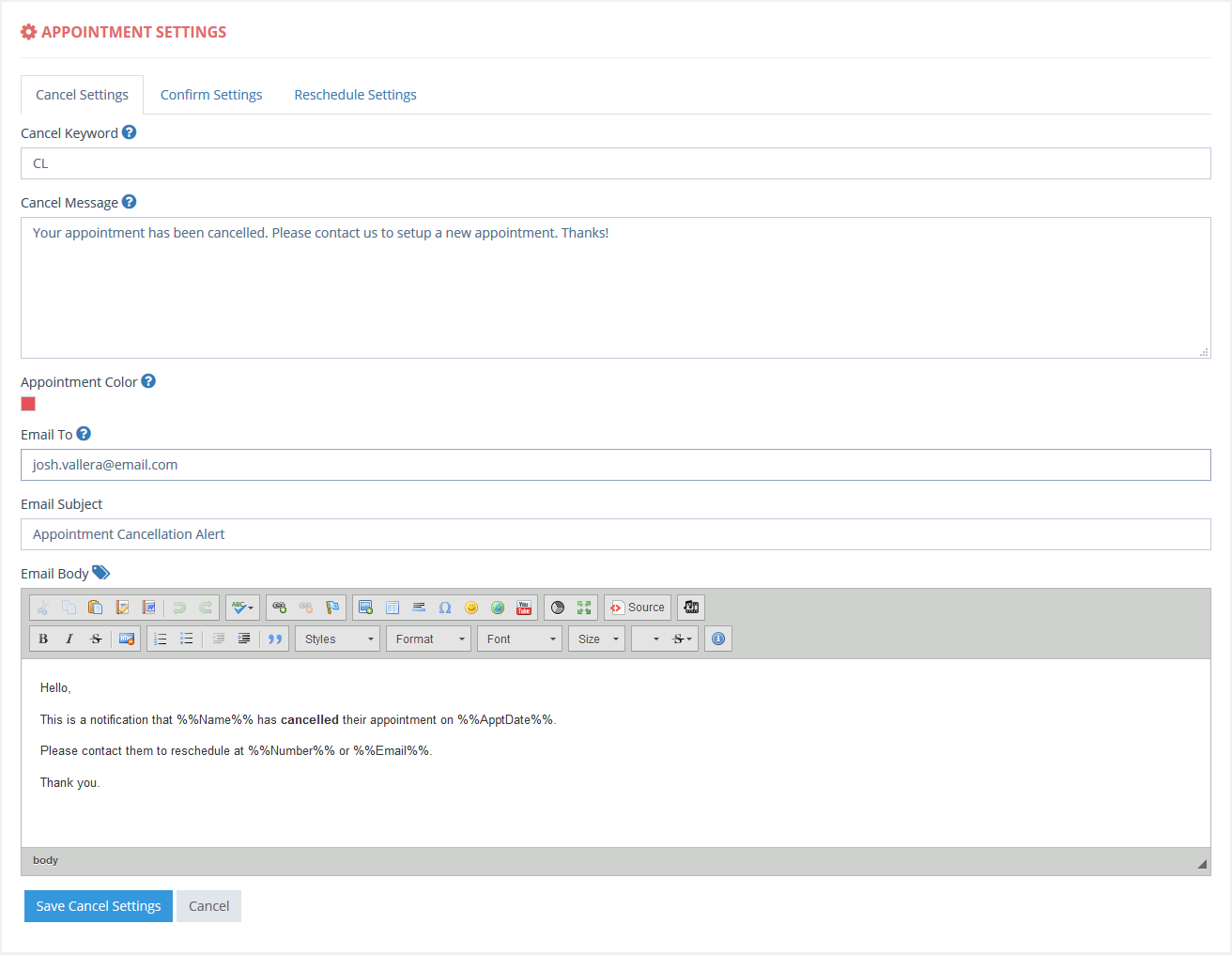 Dashboard: Appointments > Settings
Appointment List – All appointments created in the platform in a nice list view. You can create appointments here or in the appointment calendar as well as schedule the reminders directly from this list.
Dashboard: Appointments > Appointment List
Appointment Calendar – View all appointments for all contacts in a nice calendar view, much like the current scheduled SMS calendar. You can also create appointments directly from it by simply clicking on a date.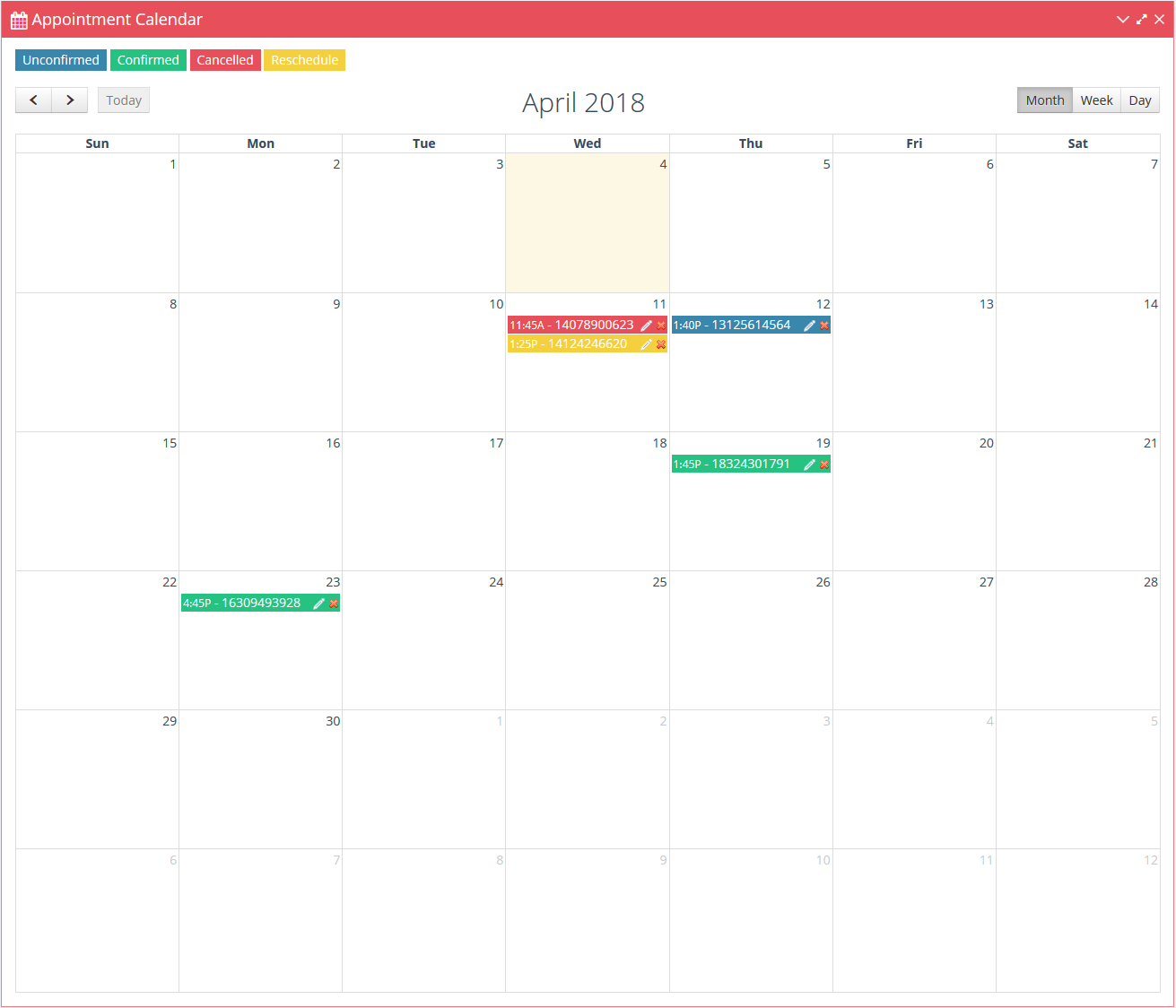 Dashboard: Appointments > Appointment Calendar

Mobile Coupons
Create beautiful Mobile Coupons to send to your customers. They are a great way to build a loyal customer base while also rewarding your current customers. There's no better tool and nothing more important than keeping your customers happy while growing your list at the same time! Each coupon is completely customizable and includes many settings and features allowing you flexibility with how you want to set them up. Set the type of coupon expiration, whether you want it to expire on a hard coded date/time or if you want it to expire a certain number of days after it has been opened.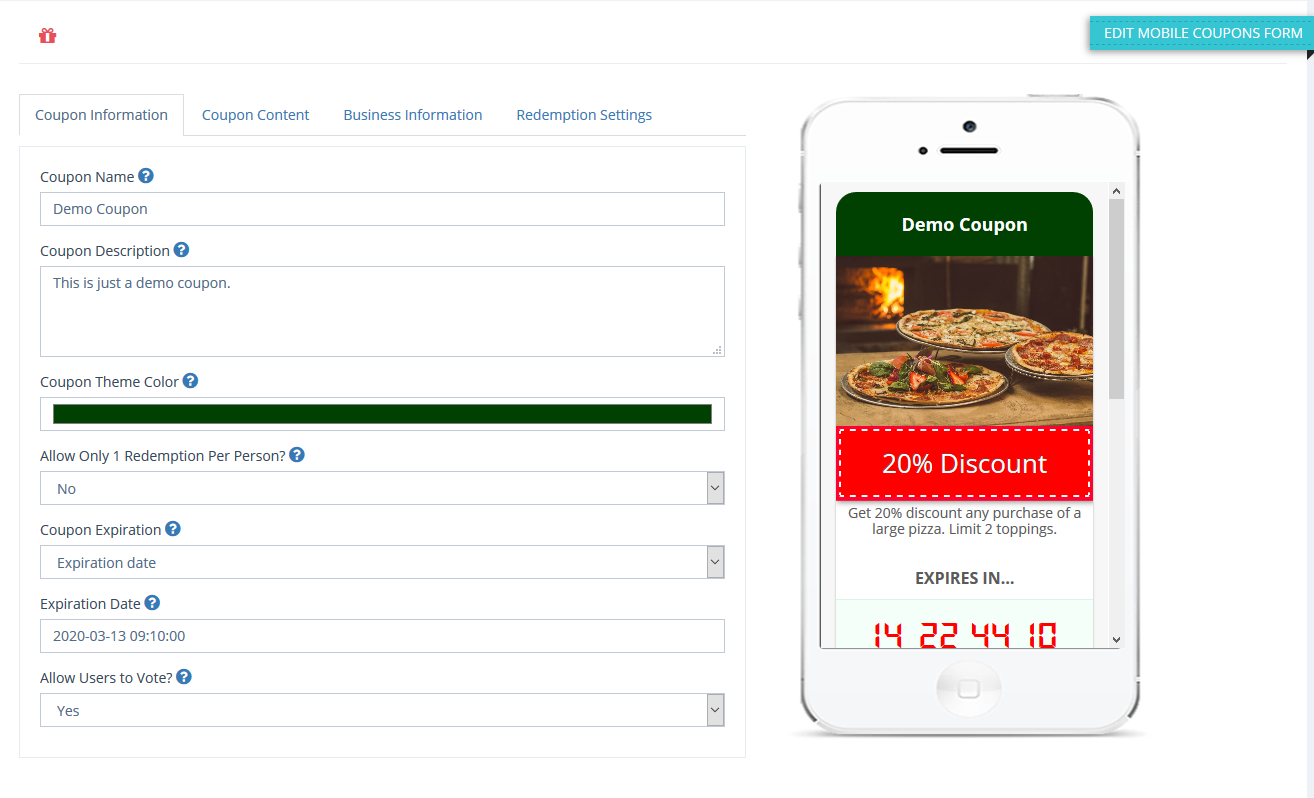 Dashboard: Tools > Mobile Coupons
Coupon Statistics – Every coupon also provides statistics on number of redemptions, unique and total views, and like/dislike votes if you choose to include vote buttons on the coupon.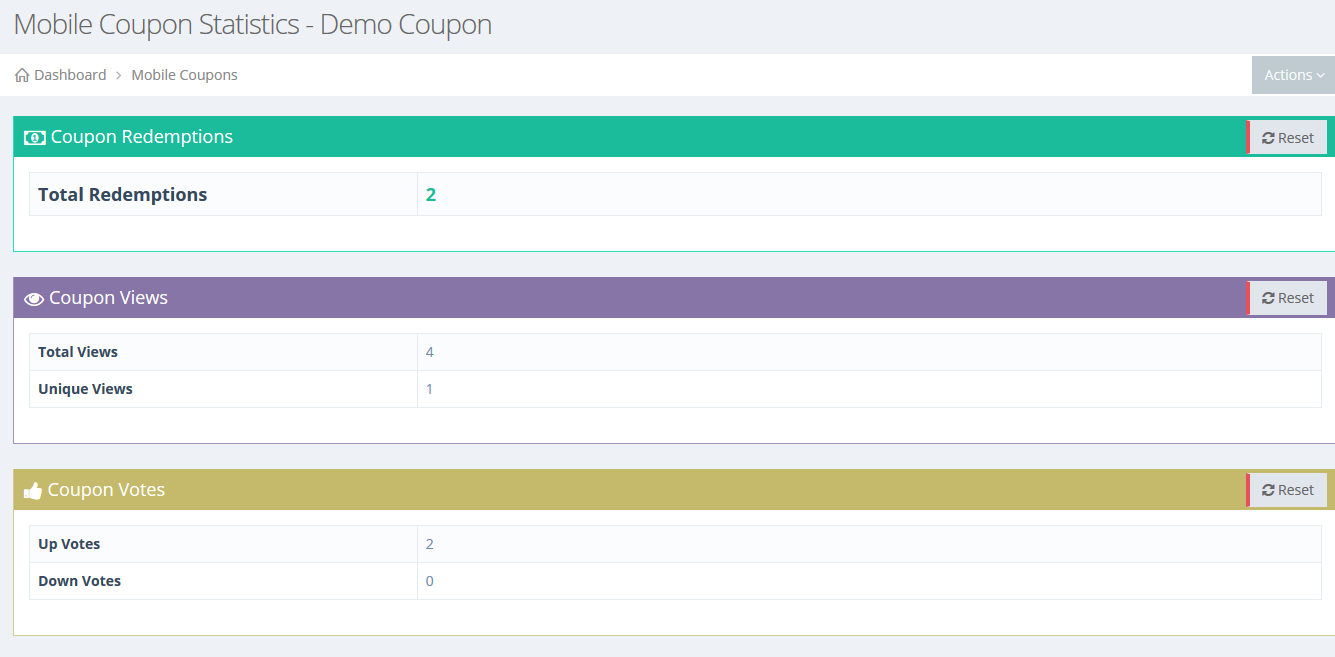 A Little More of Our Software
Just a few more features out of so much more to create the ultimate SMS platform!

Take it for a Test Drive
The best way to experience the platform is to try it out yourself!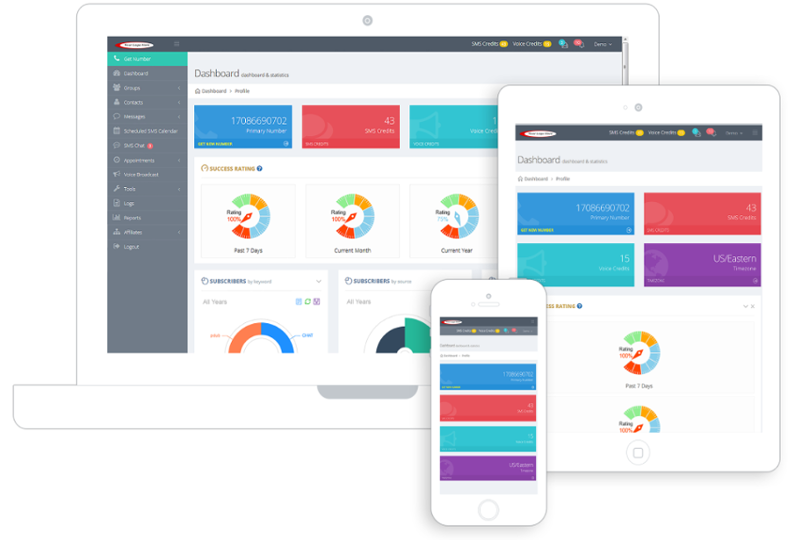 USER PANEL Username & Password: demo
* Contact us for admin panel credentials