Yes, but this feature is only active for countries that support it and also have SMS-enabled numbers available. So if your country has SMS-enabled numbers available(through Twilio, Plivo, or Nexmo) and also supports sending from an alphanumeric sender ID, you will see this option from the Bulk SMS page where you can enter your own 11 character sender ID to send from.
Keep in mind an alphanumeric sender ID is only used for one way communication. Recipients of messages with an alphanumeric sender ID will not be able to respond to you. Customers receiving text messages with your alphanumeric sender ID should have opted in to your service and been informed on how to opt out. You must offer your users the ability to opt out by writing to your support team, calling your support phone line, or texting STOP to your actual SMS-enabled number. We recommend that you provide your users with a clear description in your terms of services or when they initially sign-up.
Countries you will be able to send from an alphanumeric sender ID:
AUSTRALIA, AUSTRIA, DENMARK, ESTONIA, FINLAND, FRANCE, GERMANY, HONG KONG, IRELAND, ISRAEL, LITHUANIA, NETHERLANDS, NORWAY, POLAND, SPAIN, SWEDEN, SWITZERLAND, UNITED KINGDOM
If using Twilio as your SMS gateway provider, you must fill out a request form first which they have to approve. You can find that form here:
https://www.twilio.com/console/sms/alphasender/request
Posted in: General
The best way to experience the platform is to take it for a test drive.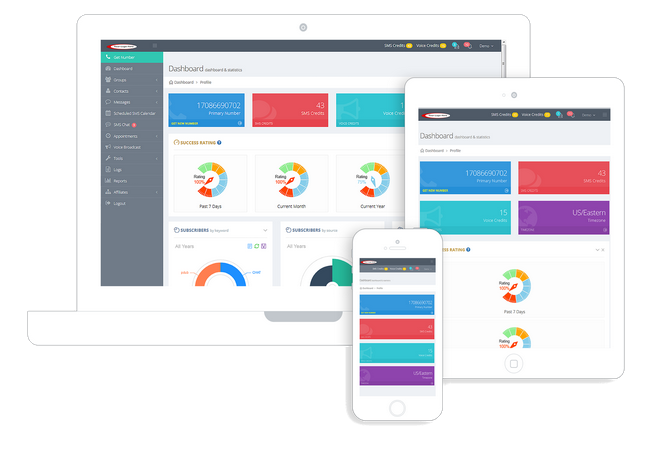 USER PANEL Username & Password: demo
* Contact us for admin panel credentials