Start your own white label SaaS SMS Marketing business in a vastly growing market. UltraSMSScript is the ultimate turn key SMS software platform and can be used as a white label solution for ad and media agencies, marketing providers, and companies serving their own local clients. We provide enterprise level, web-based software at a low 1-time cost. With our SMS marketing software platform, you can service an unlimited number of client accounts and manage these accounts from a very easy and intuitive administration panel giving you complete control.
SMS Marketing is becoming big business. Hundreds of millions of dollars are being spent every year in the United States alone on mobile marketing campaigns. Businesses from Fortune 500 companies down to the local mom and pop shops have jumped on the SMS marketing bandwagon, and the reasons are because it's very affordable and have a high ROI due to extremely high open rates and messages arriving instantly. Forget about email spam filters. SMS messages are direct and are opened 95% of the time!
NO MONTHLY / ANNUAL / CLIENT ACCOUNT FEES like other white label platforms require. Pay a 1-time fee for UltraSMSScript. You own the platform, therefore we don't require any recurring commitment from you.
100% SMS White Label Self-Hosted Software Solution
Use your own logo / branding
Set your own pricing & mark-up
Create 1-time and monthly plans
Integrated with PayPal / Stripe gateways
Safe, Reliable and Robust Platform
Lowest wholesale SMS costs – NO mark-up
Easy to use administration panel
Accept payments in 17 currencies
Other Features
10 different user panel templates to choose from!

New

Intuitive web-based user control panel
Control which payment gateway you want to use, PayPal/Stripe or Both
Turn off/on activation fee module(optional revenue)
Built on the Twilio, Plivo, Ytel, Nexmo, Telnyx, SignalWire, and Bandwidth APIs.
Very low outbound SMS fees starting at .0075 for Twilio, .0058 for Nexmo, .0025 for Telnyx, and .0050 for Plivo and Ytel.
Use 1 or all SMS gateways inside the script
Associate different SMS gateways with different countries and user accounts
Over 200 countries and over 1,200 mobile carriers supported
Admin reporting on platform usage
Optional free trial credits for each new user
Unlimited keywords
Create both monthly and "add-on" credit packages
Create monthly numbers packages and sell numbers
3 Revenue Streams
Activation Fee Module (Optional) – In the admin panel, you can turn on or off the activation fee flag. If it's turned on, then in order to use and unlock all the features of the software, the user must pay an activation fee which is determined and set by you. It could be $1, $50, or even nothing, that's for you to decide. If turned off, then once that user registers and confirms registration through the verification email they receive, they are automatically activated.
Credit Packages – Your customers will need to purchase credits in order to use the system. These credit packages are also setup by you in the admin panel and you determine the cost/mark-up for whatever amount of credits in each package. There are 2 types of credit packages you can setup in the admin panel. "pay-as-you-go" or add-on credits and monthly subscription packages. This type of flexibility is important for many users that want full control as some will just want to purchase pay-as-you-go as they need them. Some will want monthly packages and some will need both as they may need to top off their account with add-on credits when they need a little more for that month.
Number Packages – You can charge your clients for any additional(secondary) local numbers they want to assign to their account. The first number(primary) is always free and included as this is a very strong marketing tactic that each client account comes with 1 free number. If you want to charge for any additional numbers, simply turn this setting on and when your client attempts to get another number, they will be prompted they must purchase a monthly numbers package. Create numbers packages with any amount of numbers in each package.
Built on the Twilio, Plivo, Telnyx, Nexmo, SignalWire, Ytel, and Bandwidth APIs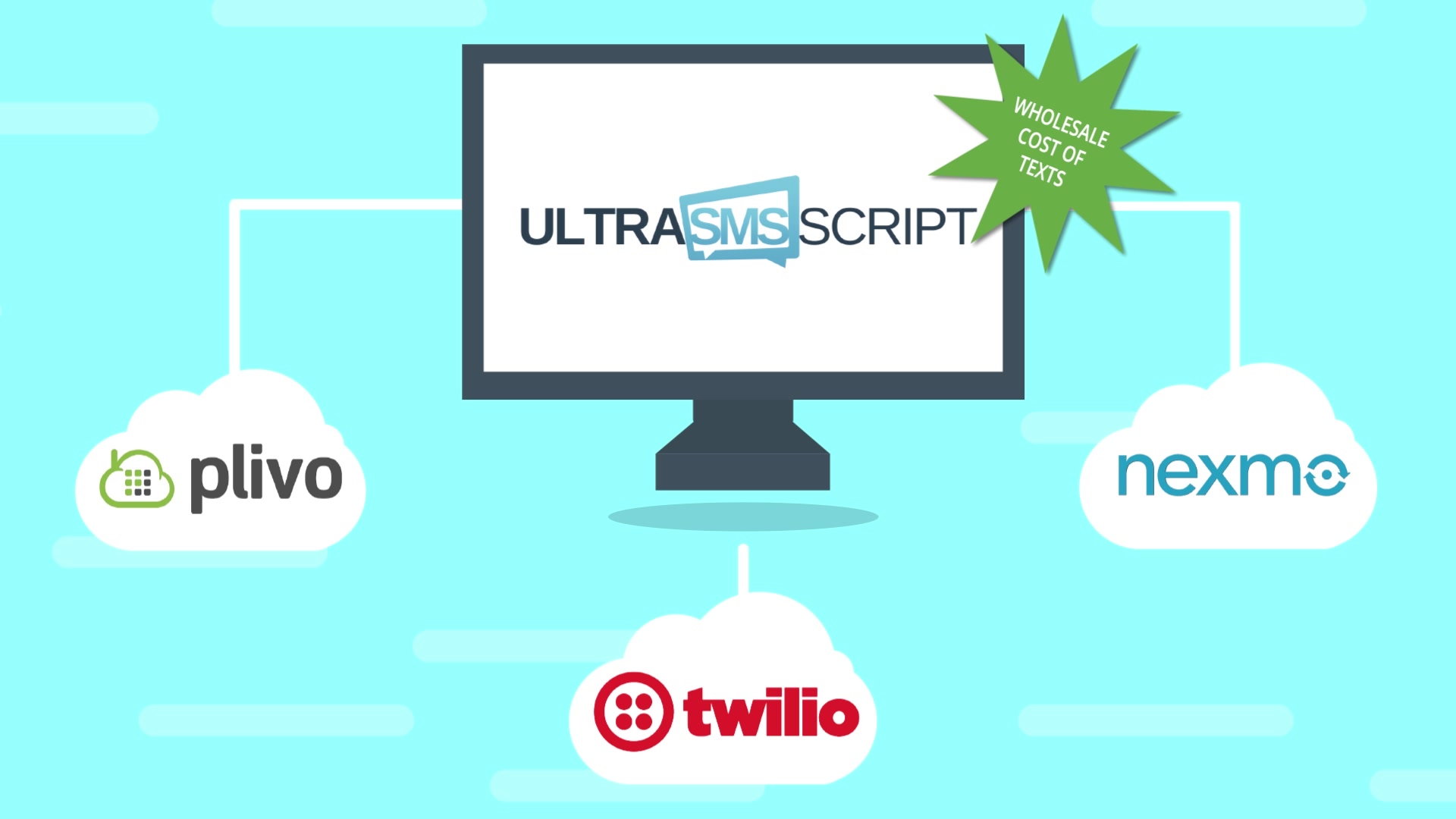 Our software is developed from the ground up utilizing 7 of the very best, world class Twilio, Ytel, Plivo, Nexmo, Telnyx, SignalWire, and Bandwidth SMS providers, which are highly robust, secure, and scalable to your demands. You are required to sign up for one of these SMS provider accounts depending on which SMS gateway you want to use. Your SMS gateway account and the script gets linked up via 2 API security tokens that they provide and any SMS and/or voice costs are simply taken from the pre-paid balance of your SMS provider account.
The credit packages you create in the admin panel for your customers to purchase from you must take these costs into account. You set your own pricing to cover costs and generate a profit.
Global Reach
Send text messages to anywhere in the world! We're connected to over 1,200 mobile carriers globally and 198 countries via the Twilio API so your SMS will be delivered wherever your users are. Send messages in whatever language your users speak; the API supports UTF-8. Use French (Français), Japanese (日本語), English (English), Arabic (العربية), or any other language your users speak.
Sample SMS credit packages you can offer
– Simply set these up in the admin and set them however you wish
SMS PLAN 100
$20
SMS PLAN 200
$25
SMS PLAN 500
$40
SMS PLAN 1000
$60
100 messages
20 cents / message

200 messages
12.5 cents / message

500 messages
8 cents / message

1000 messages
6 cents / message
Actual SMS usage charges with
Twilio

based on above credit packages

– Assuming .0075 cent per SMS message
| | SMS Plan 100 | SMS Plan 200 | SMS Plan 500 | SMS Plan 1000 |
| --- | --- | --- | --- | --- |
| Messages | 100 | 200 | 500 | 1000 |
| Cost | $.75 | $1.5 | $3.75 | $7.5 |
| Profit | $19.25 | $23.5 | $36.25 | $52.5 |
Actual SMS usage charges with
Nexmo

based on above credit packages

– Assuming .0058 cent per SMS message
| | SMS Plan 100 | SMS Plan 200 | SMS Plan 500 | SMS Plan 1000 |
| --- | --- | --- | --- | --- |
| Messages | 100 | 200 | 500 | 1000 |
| Cost | $.58 | $1.16 | $2.9 | $5.8 |
| Profit | $19.42 | $23.84 | $37.10 | $54.2 |
Actual SMS usage charges with
Plivo

and

Ytel

based on above credit packages

– Assuming .0050 cent per SMS message
| | SMS Plan 100 | SMS Plan 200 | SMS Plan 500 | SMS Plan 1000 |
| --- | --- | --- | --- | --- |
| Messages | 100 | 200 | 500 | 1000 |
| Cost | $.50 | $1 | $2.5 | $5 |
| Profit | $19.50 | $24 | $37.50 | $55 |
Your profit margins are fantastic with any of the SMS gateways you decide to go with! With the cheap wholesale costs of SMS and whatever price you decide to set for your credit packages, reselling SMS gives you the opportunity to make money and run a profitable business.
Our SMS Reseller White Label Software is very easy to install and get up and running in no time at all! It comes with simple, step-by-step installation instructions, admin panel field descriptions PDF, 275 page comprehensive user guide PDF, and marketing materials to help promote your business! However, should you need assistance with installing the software or any questions that arise, we are here to help. We offer FREE installation services on all our levels and quick setup!

FREE 275 Page White Label User Guide

FREE (Editable) Marketing Materials

SMS Reseller Platform Features
A quick glance at our white label SMS platform features!

Take it for a Test Drive
The best way to experience the platform is to try it out yourself!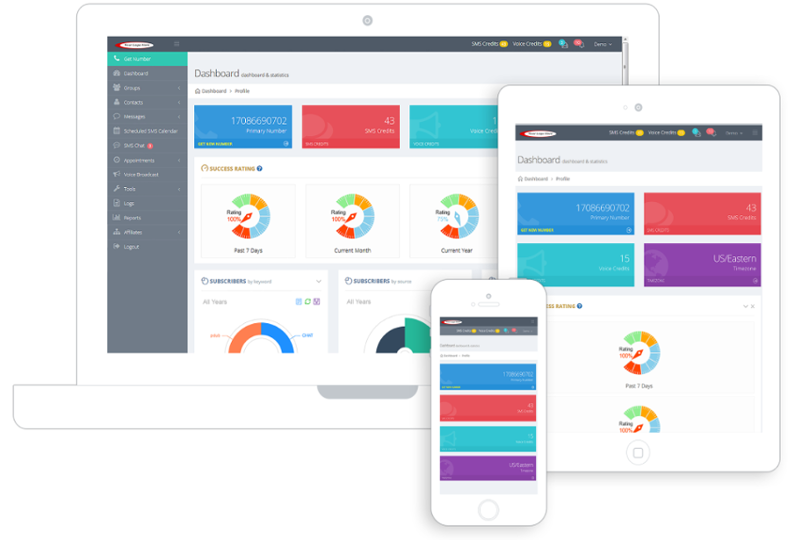 USER PANEL Username & Password: demo
* Contact us for admin panel credentials